Labour leader Jeremy Corbyn called for talks between the West and North Korea, branded US President Donald Trump "erratic" and backed the UK adopting a no-first use nuclear weapons stance at a major foreign policy speech in central London on Friday 12 May.
The former vice-president of the Campaign for Nuclear Disarmament (CND) also declared that he was not a pacifist during the event at Chatham House, the Royal Institute of International Affairs.
"A Labour Government will want a strong and friendly relationship with the United States. But we will not be afraid to speak our mind," Corbyn said.
"The US is the strongest military power on the planet by a very long way. It has a special responsibility to use its power with care and to support international efforts to resolve conflicts collectively and peacefully.
He added: "Britain deserves better than simply outsourcing our country's security and prosperity to the whims of the Trump White House. So no more hand holding with Trump."
Corbyn claimed that the Republican property-tycoon had "recklessly" escalated tensions with North Korea. "We need to create a dialogue," the Labour leader said, as dictator Kim Jong-un clashes with Trump.
Nuclear switch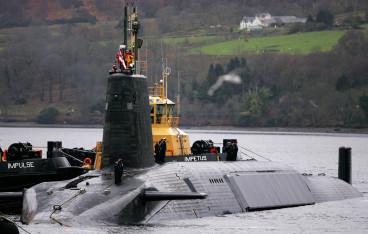 Elsewhere, Corbyn committed a Labour government to renewing Trident, the UK's submarine-based nuclear deterrent – but said he would adopt a no-first use stance.
The doctrine is used by other nuclear powers, such as India and China, and former US President Obama Barack Obama reportedly considered adopting the stance at the end of his administration
"I am often asked if as prime minister I would order the use of nuclear weapons," Corbyn said.
It's an extraordinary question when you think about it – would you order the indiscriminate killing of millions of people? Would you risk such extensive contamination of the planet that no life could exist across large parts of the world?
"If circumstances arose where that was a real option, it would represent complete and cataclysmic failure. It would mean world leaders had already triggered a spiral of catastrophe for humankind.
"Labour is committed actively to pursue disarmament under the Nuclear Non-Proliferation Treaty and we are committed to no first use of nuclear weapons."
Corbyn, who promised to "protect the safety and security of our people and our country", has previously been critical of the North Atlantic Treaty Organisation (NATO) military alliance.
The left-winger has also been criticised for inviting Sinn Fein chief Gerry Adams to the House of Commons shortly after the provisional IRA, attempted to murder then Prime Minister Margaret Thatcher with a bombing in Brighton in 1984.
"Corbyn has shown beyond all doubt that he would put Britain's security at risk," said Conservative Defence Secretary Michael Fallon.
"He says he would never use Trident, dithers over confronting ISIS, and wants to tie the hands of our intelligence services.
"Corbyn is simply too weak and shambolic to stand up to terrorists and tyrants who want to do us harm. Only Theresa May and the Conservatives will deliver the strong and stable leadership needed to keep us safe."
Corbyn's Chatham House speech came just over three weeks before the general election on 8 June. The latest YouGov poll, of more than 1,600 people between 9 and 10 May, gave the Conservatives a 16 point lead over Labour (46% versus 30%).
Notably, Shadow Defence Secretary Nia Griffith, a supporter of NATO and the UK's annual 2% of GDP military spending commitment, was absent from the event.