A top North Korean official has warned the US that it is ready to launch a pre-emptive nuclear strike if the country is threatened. Lee Yong Pil, director of the Foreign Ministry's Institute for American Studies in the isolated nation has said that a "pre-emptive nuclear strike is not something the US has a monopoly on".
The warning come just two days after the Pentagon claimed North Korea failed in a bid to test an intermediate ballistic missile. In September the Democratic People's Republic of Korea (DPRK) conducted its fifth nuclear test, and in 2016 the country has launched more than 20 ballistic missiles in an attempt to improve its delivery system for nuclear weapons.
Sanctions imposed by the UN Security Council in March have been met with angry rhetoric and today (17 October), North Korea's foreign affairs representative for northern Europe, Pak Yun Sik, warned the UK not to interfere with its nuclear ambitions while affirming that South Korea and the US are targeting them with military drills.
"The US has nuclear weapons off our coast, targeting our country, our capital and our dear leader, Kim Jong Un," Yong Pil told NBC News. "We will not step back as long as there's a nuclear threat to us from the United States.
"A pre-emptive nuclear strike is not something the U.S. has a monopoly on," he added. "If we see that the US would do it to us, we would do it first. We have the technology."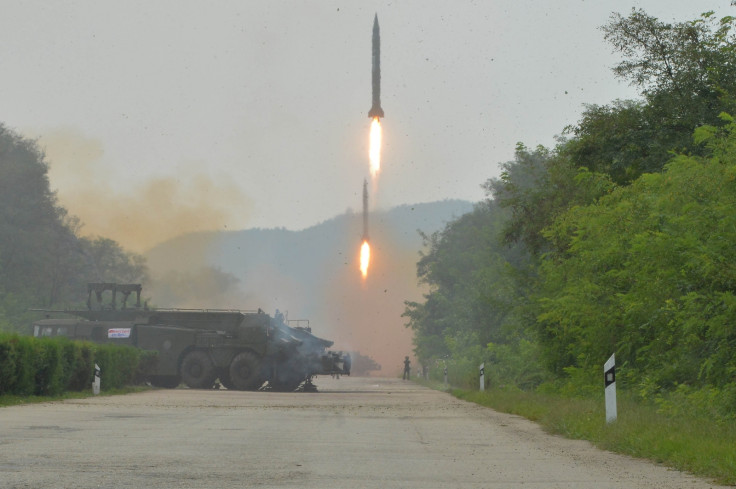 The hermit nation may also conduct further nuclear tests, including a "sixth, a seventh or an eighth" trial, Lee continued. "We have to have nuclear weapons to protect our country, and it's our policy to go nuclear," he affirmed.
The report by NBC cited another Pyongyang official, Hwang Yongnam, who is authorised to speak about the country's missile programme, said that North Korea already has the capability to fire rockets that could reach the US mainland – although this is denied by the US.
The impoverished nation also plans to launch rockets and satellites for space exploration. Ri Won Hyok, a senior official for North Korea's space programme confirmed: "In the future, our goal is not just going to the moon, but to other planets".