South Korea and the US are discussing the deployment of "strategic" military assets in the Korean peninsula following North Korea's nuclear test. The presidents of both countries held a telephone conversation over the detonation, which Pyongyang said was a hydrogen bomb test.
High-end military assets – to be deployed by the US and South Korea – may include a nuclear-powered submarine, F-22 combat fighter jets and a B-52 bomber, in what seems to be more of a muscle-flexing exercise against the North. Officials have said specifics of the deployment are still under discussion. Seoul, had placed its military on high alert after the nuclear test on 6 January.
"Joint Chiefs of Staff Chairman General Lee Sun-jin and US Forces Korea commander General Curtis Scaparrotti held a face-to-face meeting in the afternoon yesterday [6 January] and discussed the deployment of US strategic assets on the Korean Peninsula. Specifics, including when the strategic assets will come here, have not been concluded yet," an official with the South Korean defence ministry said.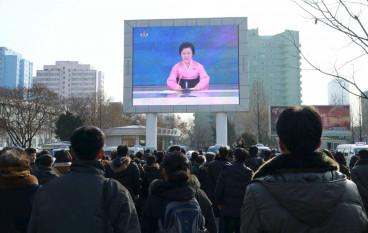 Tension in the Korean peninsula has escalated sharply after Pyongyang announced that it had conducted a hydrogen bomb test, cranking up geopolitical pressure. Pyongyang's rivals – the US, South Korea and Japan – have been scrambling to deal with the situation. Defence chiefs from South Korea and China – a key North Korean ally – are also expected to hold talks over their military hotline shortly.
President Barack Obama and his South Korean counterpart, Park Geun-hye held a 20-minute telephone conversation on 7 January assuring each other of close cooperation. The South Korean presidential office said the two leaders agreed that the defiant North should face the consequences for its fourth nuclear test.
The White House said that Obama had separate telephone calls with Park and Japanese Prime Minister, Shinzo Abe to discuss the situation. A statement read: "President Obama reaffirmed the unshakeable US commitment to the security of the ROK [Republic of Korea], and the two leaders agreed to work together to forge a united and strong international response to North Korea's latest reckless behaviour." It added: "All the three leaders reiterated their pledge to forge a united and strong international response to North Korea's latest reckless behaviour."