North Korea has confirmed that it carried out a nuclear test, claiming that a hydrogen bomb was detonated. The announcement follows a 5.1 magnitude earthquake that was detected at North Korea's nuclear test site.
Experts from South Korea and the US are closely watching the situation after the reports. Pyongyang insisted it has the "legal right" to conduct nuclear tests in order to defend itself from provocations from adversaries.
North Korean leader Kim Jong-un recently claimed the country has expanded its nuclear arsenal by developing H-bombs, but experts have expressed scepticism. The US Geological Survey (USGS) said the quake, mostly man-made, took place with the Punggye-ri nuclear test site at its epicentre. Mixed reports place the depth of the quake between 10km and 0km.
"The epicentre was initially determined to be at 41.3 degrees north latitude and 129.1 degrees east longitude," Xinhua reported, citing China's quake monitoring agency.
South Korea's Foreign Minister Yun Byung-se has convened an emergency meeting over the situation. A ministry official told South Korean Yonhap news agency: "The Foreign Ministry is currently holding a meeting presided over by the minister to immediately determine the situation following the reports."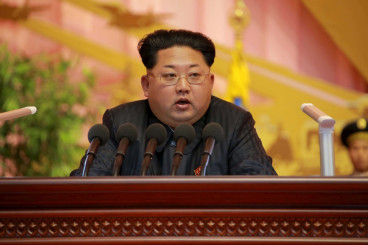 If confirmed, this is the first time the communist nation has carried out a hydrogen bomb test, though it has previously said that it has nuclear weapons.
The hydrogen bomb is a two-stage nuclear weapon that uses a primary nuclear fission explosion (typically using uranium) to set off a secondary hydrogen fusion reaction. Depending on the configuration, it can be the most powerful example of nuclear weaponry on Earth, hundreds of times more destructive than a single-stage fission weapon.
Pyongyang has conducted nuclear tests three times — in 2006, 2009 and 2013 — which are critical for the country's arms programme but are relatively low yield. North Korea has been under intense economic pressure, caused by UN-led sanctions over its nuclear experiments. In the wake of North Korea's third nuclear test in 2013, the South Korean government speculated that Pyongyang could racing towards the development of a hydrogen bomb.