It is the kind of hike that would take a fit mountaineer hours and would require a strong pair of lungs as well as specialised footwear.
But that apparently wasn't required for Kim Jong-Un, who according to North Korea's state media managed to walk "through thick snow" to get to the top of the 2,777m Mount Paektu, even if his spotless leather shoes suggested otherwise.
It is an apparent remarkable return to form for the leader whom international reports do not exactly paint as being a picture of health.
Known to be fond of smoking and cheese, particularly partial to Emmenthal which he got a taste for when he was a student in Switzerland, the South Korean government said in 2015 that since Kim came to power, he had gained 30kg, weighing an estimated 130kg (290lb), the Koyodo News reported.
But neither pesky question marks over his fitness nor the altitude appeared to deter the leader's reported ascent of the mountain. He was helped in part by his ability to control the climate, after the state newspaper Rodong Sinmun reported how there was "fine weather unprecedented in the blizzard of December winter, exposing its majestic figure".
However the discrepancy between his relaxed demeanour and the reportedly arduous nature of his efforts is unsurprising, especially given that Mount Paektu is the scene of much mythology.
It was said to be where his father Kim Jong-Il was born; an event that coincided with the appearance of a swallow, a rainbow and the immediate change from winter to spring, perhaps another example of how North Korean leaders can affect the weather. Upon his death in 2011, layers of ice are said to have erupted at the lake on the mountain.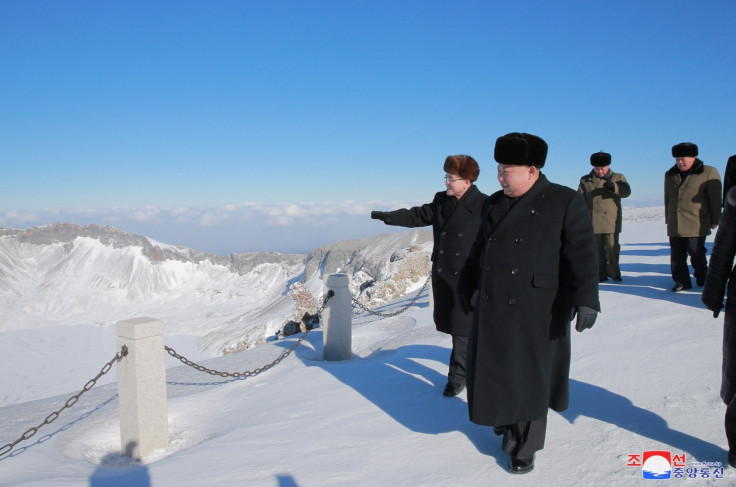 On the current leader's ascent, Rodong Sinmun reported how Kim Jong-Un's "eyes reflected the strong beams of the gifted great person seeing in the majestic spirit of Mount Paektu the appearance of a powerful socialist nation which dynamically advances full of vigour without vacillation at any raving dirty wind on the planet."
As well as mountaineering, it has also emerged that the dictator is also a football fan, after the Italian senator Antonio Razzi said that he was a fan of Inter Milan.
"It seems that when he studied in Berne, he would often go to the San Siro, especially to watch Inter Milan play," Razzi said, according to the Sun.
Meanwhile, Jeffrey Feltman, the UN Under-Secretary-General for Political Affairs, was in North Korea on a four-day visit last week in the wake of the hermit kingdom launching a long-range missile defying UN regulations.