Could Kim Jong-un allow his athletes compete under this pan-Korean Olympic flag?
KEY POINTS
South Korea and North Korea walked together under same banner during Sydney 2000 opening ceremony.
Seoul has proposed the countries do the same in the upcoming Winter Olympics.
North Korea has agreed to send a delegation of athletes and officials to the upcoming Winter Olympics in Pyeongchang, South Korea, next month following high-level diplomatic talks.
According to reports, South Korea has discussed the possibility that the two countries could march in the Games' opening ceremony under the same flag – a gesture that would indicate a thaw in relations, which have been especially tense in recent years.
This ambitious move by Seoul is not without precedent. In 2000, North and South Korean athletes marched into Sydney's Olympic Stadium as 'Korea' while flying a symbolic unification banner.
Even though they competed as two different teams, the gesture gave hope that one day reunification between the two countries was possible.
The striking blue-and-white unification flag has been used numerous times in the past and symbolises their once-close connection, which ended after the 1953 Armistice split the nation in two.
The banner was first used in 1991 when the countries competed as a one team in the World Table Tennis Championships held in Japan. Since then it has featured in 2003 Asian Games in Busan, the 2004 Games in Athens and Turin's 2006 Winter Olympics.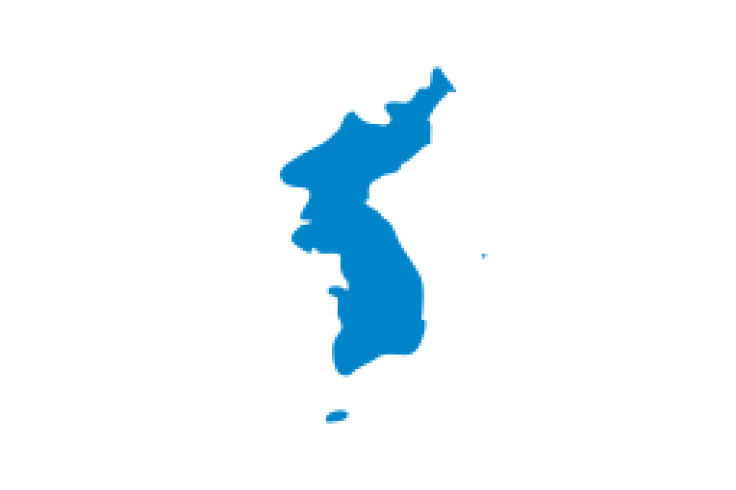 The unification flag once used by both North and South Korea.
Wikicommons
However, this association stopped for the Beijing Games in 2008 and has not featured since, owing to increased tension in the region.
It has also been used for political purposes. In 2007 South Korean president Roh Moo Hyun travelled to Pyongyang for an official state visit and the flag was displayed prominently by both sides for the duration of the official visit.
North Korea has been growing increasingly isolated in recent years and is in dire need of diplomatic and economic support.
The United States government has pressured China to keep the secretive state under tight control as some reports suggest that the Trump administration has seriously considered pre-emptive military strikes following North Korea's provocative nuclear missile tests.