Not drinking? There's kombucha on tap...
Fermented tea is making its way up in the UK, now it's on draught alongside your pint.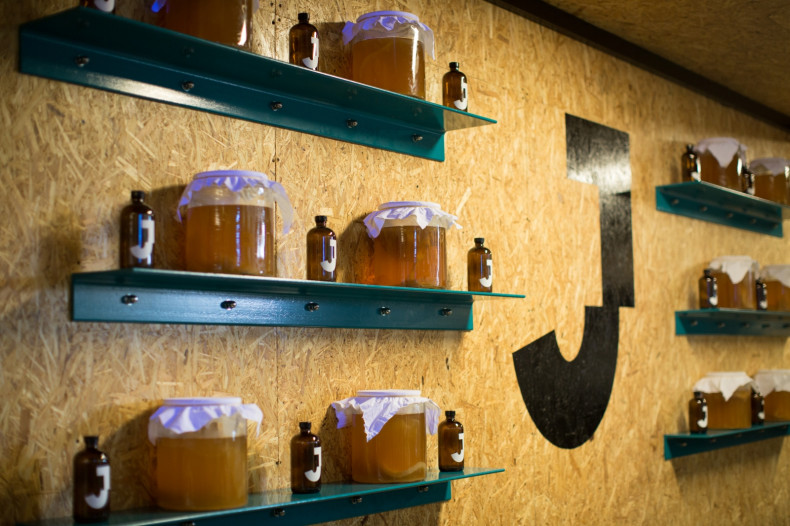 If you don't feel like drinking, the UK can be a hard place to socialise. Pubs and bars make up communal areas that other countries fill with cafes, and there's not much choice when it comes to non-alcoholic options aside from, maybe, a old lime and soda.
"If you go to any bar in London you'll see there's booze, there's really bad pasteurised fruit juice, there's water, there's fizzy drinks with loads of sugar but there's nothing in between," says Adam Vanni, founder of Jarr Kombucha which has been brewing the fermented tea in a Hackney Wick warehouse since November 2015.
They're one of the start-ups trying to bring kombucha into the UK scene – they've opened what they think to be the first bar in Europe to have kombucha on tap, right next to the draught beer, and are brewing continuously in large steel tanks just behind the counter.
Vanni says they wanted to bring kombucha to the UK where it's still a niche industry: "in the States the industry is about $650m."
So for the uninitiated, what actually is kombucha? The Kombucha Brewers International describe it as: "A fermented tea beverage, made by adding a symbiotic culture of bacteria and yeast (scoby) to a solution of tea and sugar." After fermenting for a week or so, what's left is a tart, vinegary tea that a lot of people seem to enjoy.
"I didn't like it at first," admits Vanni, "it was just that vinegary bite to it that my palate wasn't ready for – then [a friend] told me how good it was for you so I started drinking it more and more until I couldn't really taste the vinegar and I started craving a stronger vinegary one."
"It's funny how once you start drinking it, it becomes the norm for you and nothing is vinegary enough, so it's very difficult for me now to judge what's too vinegary." Jarr currently sells three different kinds of the fermented tea – original, ginger and passionfruit, available at a few wholefood shops in London.
But is it good for you?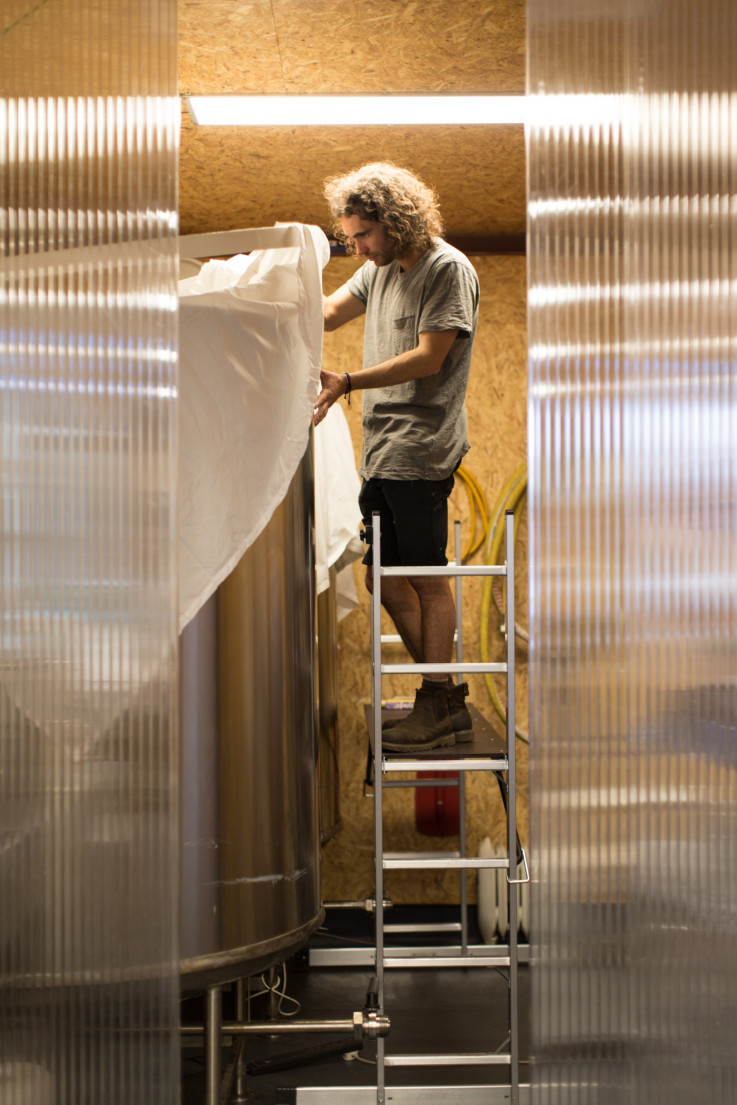 Checking on the big tanks...
Jarr Kombucha
Whether or not kombucha is especially good for you is a contentious topic, with some companies talking up the health benefits and detractors arguing that the science isn't there. "We don't like to claim anything," says Vanni, "but in a basic sense it has the health benefits of the tea." So if you think your green tea is good for you, Jarr's original kombucha is part green sencha tea from Sri Lanka and part organic oolong from Taiwan.
"In terms of probiotics, that's the arguable bit, because each brew is different and nobody really knows exactly what the quantity of probiotics are within the kombucha – a lot of companies in the states actually introduce powdered probiotics post-fermentation which is kind of cheating but then you can claim there are probiotics. We're just saying it's a low sugar alternative to soda and alcohol."
Reactions are generally good too, says Vanni, though the taste can surprise people – "most people are pretty cool with it," but adds that the bar still makes most of its money from the beer.
"We just wanted people to have an option – in Los Angeles, where I'm from, you can get kombucha in some cool bars around LA so if you don't feel like drinking or you're the designated driver you can have a kombucha instead."
How about home made?
For budding brewers, kombucha can be made at home fairly easily – a few websites will sell you the cultures needed to make your 'scoby', a pale gooey lump that sits at the top of your kombucha as it ferments, and then you can find recipes to guide the amount of sugar you want to add.
There are a few mistakes first timers can make though: "It's difficult to ruin but if it's too cold, it can grow mould; if you smoke near it, it can grow mould; if you have any flowering plants near it, it can grow mould. You need airflow – you have to keep a constant temperature above 18, really you want it to be about 24... [but] the acidity protects itself, we've never had a case of mould."
Fruit flies on the other hand... "kombucha is exactly what fruit flies want," says Vanni. They've lost whole batches because a single fruit fly got in.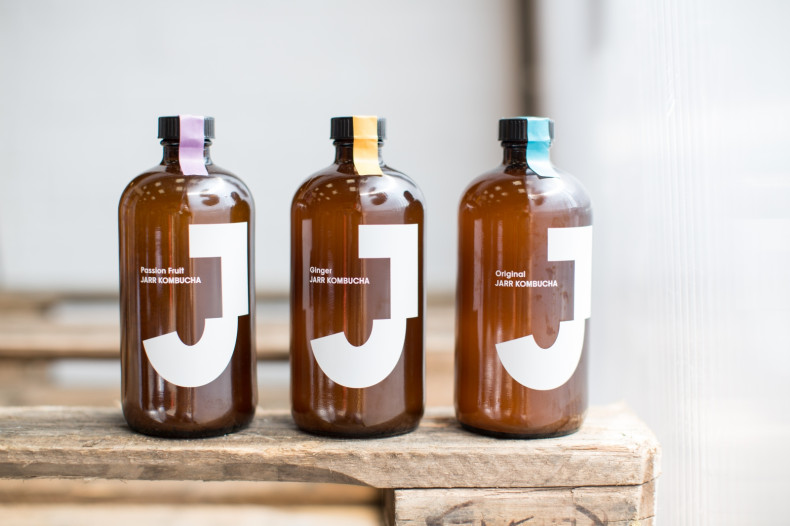 Add a little gin...
It's not just a drink for health nuts and teetotallers, they have kombucha cocktails too. Working with a bartender from Malmaison they created a custom list: "It works really well as a mixer actually, if you can imagine the ginger with a dark demerara rum, the passion fruit with a gin or a vodka – the original with gin, cucumber and a splash of lime is really nice. Just as a really simple mixer you can use [kombucha] as a tonic but it's obviously much lower in sugar."
The drink has seen spiking popularity in America where some see it as a wake-up drink, some as a post-work out refresher and others just like the taste. The drink's place in the UK is still small but growing, stalls are starting to open up at farmers markets and big whole food shops are stocking a few brands.
But will Brits take to their tea being given a tang? We'll have to wait and see. Until then, three lagers and a kombucha, please...