The General Yermolov Cadet School in southern Russia is not your average school; the curriculum includes weapons handling, marksmanship and parachuting. The instructors are not your average teachers; many having spent years with the Russian military in "hot spots" or conflict zones.
And the students are not your average pre-teens; most come from military families and go on to join the army or law enforcement agencies themselves. Having gown up in this environment, the handling of training rifles and rocket launchers is like second nature.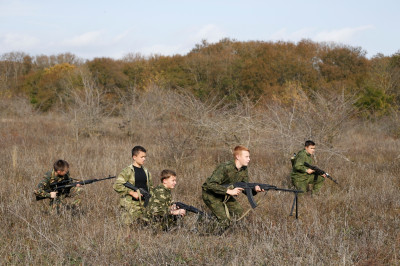 The state-run institution, located in Stavropol, teaches military and patriotic classes in addition to academic subjects like maths and science. Their studies concentrate on modern military science – from handling firearms and disarming landmines to forest survival training and learning Morse code.
These children take part in field exercises, running through forests and crossing streams while balancing weapons – some of which are almost as large as them. Despite chilly and wet conditions, the drills are considered a privilege; only students with good grades are permitted to participate.
Reuters photographer Eduard Korniyenko captured children being put through their paces at the school and in the surrounding countryside.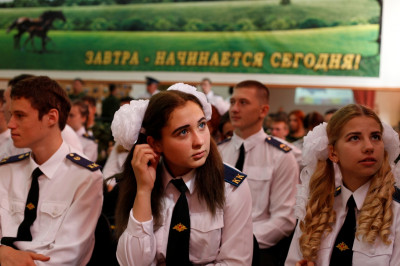 The annexation of Crimea from Ukraine in 2014 led to an upsurge in what is called "military and patriotic education" of Russian youths.
A group of teenagers from the Patriot club in Crimea visited the General Yermolov Cadet School's field camp, named Russian Knights, over the summer. This camp trains more than 1,500 teenagers a year. Assembling their rifles and displaying a comfortable ease while unloading bullets from a magazine, they may not be your average school kids, but these pre-teens are the future of Russia's military.