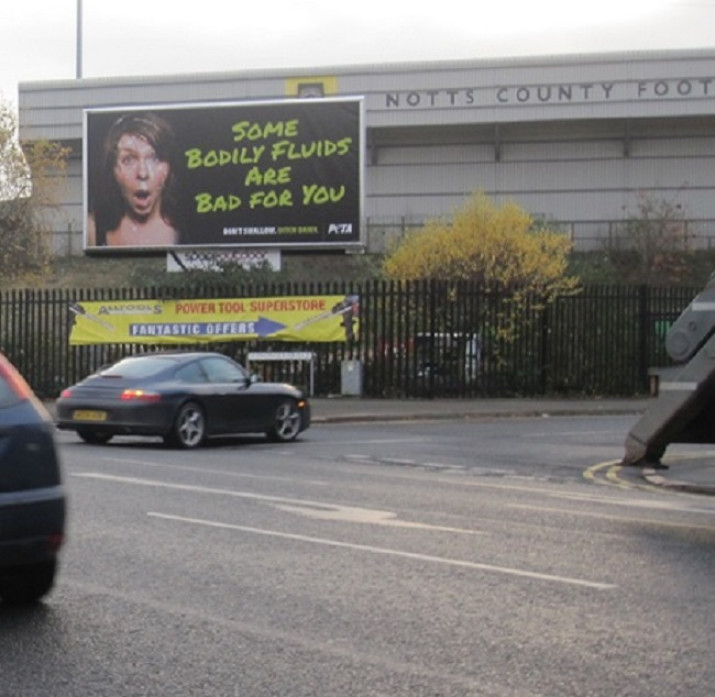 A "tongue-in-cheek" billboard by Peta (People for the Ethical Treatment of Animals) was removed after it caused a furore at Notts County football club for its indecent nature.
The poster, showing a surprised woman soaked with milk, had the words: "Some bodily fluids are bad for you. Don't swallow. Ditch Dairy."
It was removed today (5 December) after the club lodged complaints, stating it was "not in keeping with [their] community and family focused values".
Local newspaper the Nottingham Post described the image as like "the aftermath of a sex act".
Damian Irvine, commercial director at Notts County, told the paper: "Families coming along to Meadow Lane for our blockbuster Christmas matches against Swindon Town on December 13 and against MK Dons on Boxing Day will not be subjected to the ads."
Peta said the campaign aimed to raise awareness about the harmful effects of consuming dairy products.
A Peta spokesman said: "This tongue-in-cheek billboard delivered a serious message and it seems reactionary to remove it.
"Families are constantly exposed to misleading dairy-industry advertisements, so Peta is ensuring that people hear about the indisputably harmful effects associated with consuming dairy products, including allergies in children, constipation, acne, heart disease, cancer and strokes."
He added: "We encourage people to visit Peta.org.uk to see for themselves how everyone would be better off with dairy-free milk and cheese, not the pus-filled excretions from a sad cow. These days, there's just no excuse for supporting the cruel cycle of cow and calf abuse."