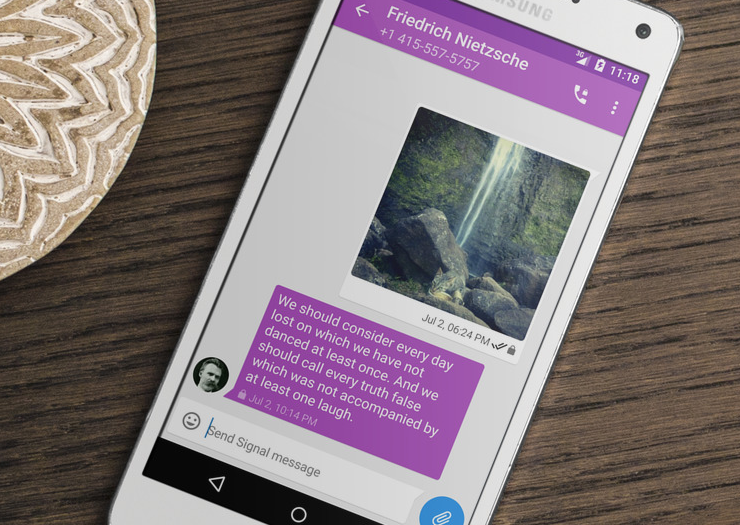 NSA whistleblower Edward Snowden has explicitly promoted a new messaging app called Signal Private Messenger. The app was originally designed for iOS but has just emerged on Android to deliver an encrypted communication solution.
Snowden revealed through his Twitter account that he regularly uses Open Whisper Systems-developed Signal app. It uses a combination of private messaging app TextSecure and secured calling app RedPhone to deliver a single solution for private messaging and calling on Android.
I use Signal every day. #notesforFBI (Spoiler: they already know) https://t.co/KNy0xppsN0

— Edward Snowden (@Snowden) November 2, 2015
Signal Private Messenger requires an access to your phone number and address book. This means that there is no need to sign up with separate login IDs or passwords, unlike most of the traditional messaging apps. "We cannot hear your conversations or see your messages, and no one else can either. Everything in Signal is always end-to-end encrypted, and painstakingly engineered in order to keep your communication safe," Open Whisper Systems wrote in a blog post. Apart from its secured conversation solutions, Signal's code is open source and is available for public use on GitHub. This enables verification of protocols and gives transparency to the operations.
Although the interface of Signal Private Messenger is quite similar to Google's stock Messaging app and features such as group chat and voice calling are in line with other messaging apps, Snowden's support would bring some users. Also, the absence of any additional signup is expected to encourage some Android users to start using the new app.
Signal Private Messenger app is available for free download through Google Play Store and is compatible with devices running on Android 2.3 (Gingerbread) or above. The app does not serve any advertisements, but Open Whisper Systems has community donations and grants as the primary sources to continue its development.