Nuclear-capable US bomber returns to Guam base after sabre-rattling in Korean peninsula
US Air Force's B-1B Lancer was on public display in Osan Air Base as a show of solidarity with South Korea.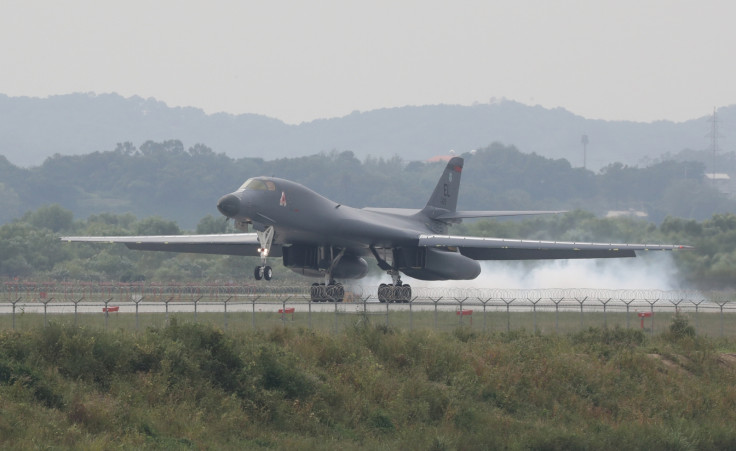 A nuclear-capable B-1B bomber of the US Air Force returned to its base in Guam after rattling sabre against North Korea in the Korean peninsula. The supersonic strategic bomber was on display at South Korea's Osan Air Base as a show of solidarity with Seoul amid threats emerging from its neighbouring rival.
Tensions quickly escalated in the region after the North's recent nuclear test on 9 September, which was followed by a rocket-engine test. The US had twice flown a pair of sophisticated B-1B Lancers over the Korean peninsula as a mark of solidarity with allies South Korea and Japan. While one bomber returned to its original base in the US territory of Guam immediately, the second aircraft was kept at the South Korean military facility in Pyeongtaek, 70kms south of Seoul.
"The B-1B Lancer returned to Andersen Air Base last night after remaining at Osan Air Base since Wednesday in a show of force against the North's latest nuclear test," a South Korean defence ministry official told Yonhap news agency. The bomber was on display at the airbase in what is seen as a PR stunt to reassure the South Korean public.
This is the first time in nearly two decades that a Lancer bomber made a brief stopover in South Korea.
At the time of the Lancer's entry into the Korean peninsula airspace, Lieutenant General Thomas Bergeson, the 7<sup>th Air Force commander said: "What we are showing today [21 September] is just one tool we have to choose from a wide array of options. The alliance grows stronger every day and we remain prepared to defend and preserve the security of the Korean Peninsula and the region."
© Copyright IBTimes 2023. All rights reserved.