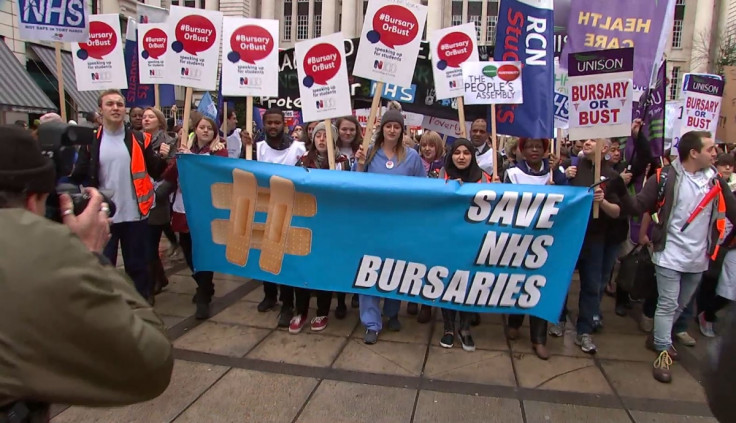 More nurses and midwives are leaving the profession in the UK than joining it, adding to pressure that the 1% pay cap on public sector workers should be scrapped.
The number registered in the UK fell by 1,783 to 690,773 in the year to March, said the Nursing and Midwifery Council (NMC), the first fall since 2008.
Other than retirement, the main reasons given for leaving were working conditions – including staffing levels and workload – poor pay and benefits, according to an NMC survey of more than 4,500 leavers.
The data comes amid mounting pressure on Prime Minister Theresa May from within her cabinet to lift the cap on pay rises for public sector workers, such as nurses and teachers.
Foreign secretary Boris Johnson is the latest minister to support the move. He joins those, including environment secretary Michael Gove, who have suggested the government's 1% pay cap should be lifted for at least some of the country's 5.1 million public sector workers.
"I think that we should listen to the pay review bodies who govern each individual area of public sector pay," Gove told BBC One's Andrew Marr show on Sunday.
Health secretary Jeremy Hunt and education secretary Justine Greening are also understood to be in favour of the pay policy being relaxed.
Case-by-case basis
Last week Labour attempted to scrap the 1% cap but was defeated in Parliament.
Shadow health secretary Jonathan Ashworth said reports on the divisions within government over public sector pay revealed there was "turmoil" in the Conservative Party.
The groups which advise on how much police officers and teachers should be paid are expected to report to the government later this month.
It is claimed they are likely to recommend figures higher than the cap, which the Conservatives are committed to keeping in place until 2020 in their election manifesto.
Pay rises for public sector workers are set by independent pay review bodies, but have effectively been capped at 1% since 2013. Before that, there was a two-year freeze on pay for all but the lowest-paid workers.
Downing Street has said that any decisions on pay will be taken on a "case-by-case" basis.
The Royal College of Nursing said its members have lost £3,000 a year in real-terms earnings since 2010.
It added: "The pay cap stands in the way of filling the 40,000 vacant nurse posts in England. When NHS and care services are short of safe staffing, patients pay a heavy price."