Nvidia has reached a major milestone by offering the world's first mobile superprocessors, NVIDIA Tegra 2 dual-core and Tegra 3 quad-core processors. Both of them deliver the best performance in the devices with an amazing multi-tasking and faster browsing. Tegra 3 includes a Super 4-Plus-1 Quad-core with fifth battery saver core where 4-Plus-1 refers to the quad core CPU cores of the processor. It offers a console-quality gaming which incorporates ultra-low power (ULP) Nvidia GeForce GPU. Nvidia will bring its next flagship processor, Tegra 4 in 2013. Probably, it could deliver the extraordinary performance when compared to its predecessor.
According to VR-Zone, it is reported that Nvidia's four processors will be launched on the market in 2013. The next-generation Tegra chips will be codenamed "Wayne". It will contain four processors- T40, T43, AP40 and SP3X. All of them will make use of 4-Plus-1 Quad-core CPU cores for a low-power computing.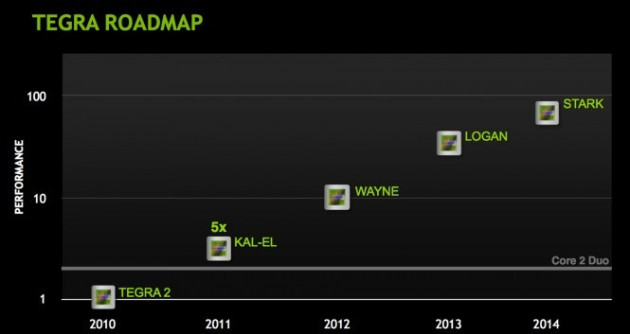 T40 will make its debut in the first quarter with 1.8 GigeHertz for 10-inch devices. The T43 will come with a slightly higher frequency of 2.0 GigaHertz in the third quarter. It will then be followed by AP40 which is listed as Mainstream with clock speeds ranging from 1.2 to 1.8 GigaHertz in the third quarter. The first three processors will have an A15 ARM cortex. A15 ARM cortex will deliver outstanding processing capability which combines with low power consumption. It is the latest member of Cortex-A series of processors, which can be utilised in advanced smartphones, mobile computing, wireless infrastructure and low-power servers.
The fourth processor, SP3X will come with higher clock speeds ranging from 1.2 to 2.0 GigaHertz which will aim for 7-inch devices. It could be the fourth processor to be launched in the third quarter with A9 ARM cortex enabled with LTE 100/HSPA42. Since, the Tegra 3 is unable to support LTE networks, some of the smartphones are turning to Qualcomm processor. The ARM Cortex-A9 is the first mobile CPU with an excellent execution for an efficient processing which results in an overall best performance.