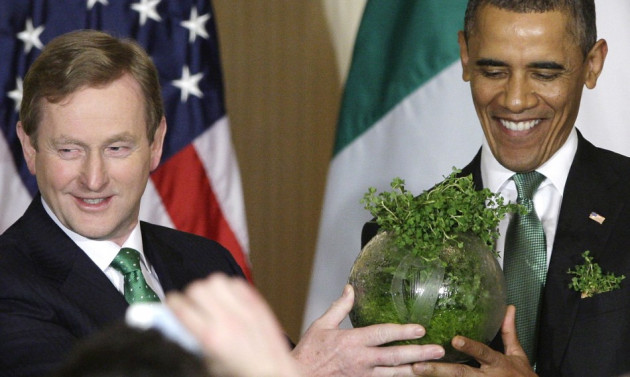 Sculptures, white porcelain vases, swords and a photo of Queen Elizabeth II are among the dozens of gifts the White House and its Presidential tenant Barack Obama received in 2011.
The US State Department has published the list of gifts that Federal employees, including the presidential family, were forced to accept from foreign dignitaries not to "cause embarrassment to donor and US Government."
Former French president Nicolas Sarkozy and his wife, Carla Bruni-Sarkozy were among the most lavish donors, as they gifted the Obamas with items worth a total of $41,675.71 (£26,920) in one year alone.
These included a Hermes golf accessory bag valued at $7,750, two Baccarat crystal table lamps worth about $5,500, a Lacoste white classic men's polo and a limited-edition "HOPE" fountain pen.
The Sarkozys were topped by His Excellency Ali Bongo Ondimba, president of Gabon, who spent $52,695 gifting the US president with a blue mask sculpture.
Obama's fondness for sports also appears to be well known to world leaders.
Canadian prime minister Stephen Harper provided him with a basketball signed by players of the NBA Toronto Raptors team.
Brazilian Sergio Cabral, governor of the State of Rio de Janeiro, promoted his region's passion for football giving Obama a series of personalised football jerseys.
A Kramski golf putter set was delivered from German chancellor Angela Merkel, while a specially designed red, white and blue Australian Rules shirt with "USA Revolution" inscribed on the front was a present from Australian Prime Minister Julia Gillard.
The most "modest" gifts arrived from the Middle East. Qatari attorney general Ali Bin Mohsen Bin Fetais Al Marri presented the White House with a wooden case containing a small sword with an inscription that read "Fight Against Corruption" valued at a mere $350 and a porcelain sculpture of a Jordanian archway from King Abdullah of Jordan was worth the same.
Other gifts included five bottles of flavoured liquors by Polish president Bronislaw Komorowski, a $9800 bronze statue of Abraham Lincoln by the artist Yuan Xikun was given by former Chinese President Hu Jintao and a somehow bizarre Formula of Power DVD contained in a wooden box with the President's picture on the front came from then Russian president Dmitry Medvedev.
At a state banquet at Buckingham Palace, hosted by the Queen in May 2011, the Obamas were presented with a collection of royal archives papers and a brooch with gold leaves valued at $2,800.00 and $1,660.00 respectively.
Surprisingly Elizabeth II was more generous with the President's members of staff. Each one received signed photographs of Her Majesty and of His Royal Highness Prince Phillip. According to the US state department every autographed snap was worth about $3,600.
All US federal employees must declare gifts received from foreign dignitaries and those received by the presidential family are turned over to the National Archives.