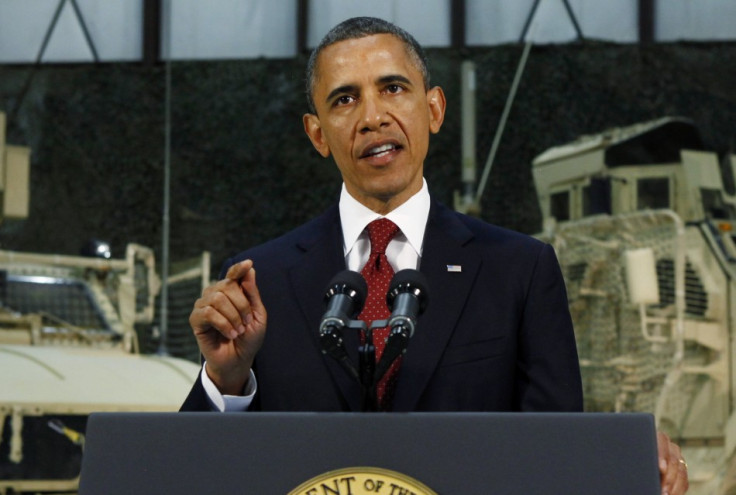 Coinciding with the first anniversary of the killing of al-Qaida mastermind Osama bin Laden in Pakistan, US President Barack Obama made a surprise visit to Afghanistan on Wednesday.
Hours after his speech, a car bomb blast was reported in the Afghan capital Kabul, killing six people, most of them civilians, for which, the Afghan Taliban claimed responsibility. Reuters, quoting, Kabul police chief Ayoub Salangi said a Gurkha guard and five passers-by were among the victims.
Addressing the US public live from a military base, the US president vowed to finish the job his country had started years ago.
"I will not keep Americans in harm's way a single day longer than is absolutely required for our national security. But we must finish the job we started in Afghanistan and end this war responsibly," Obama said.
Although he agreed that the days ahead will be difficult, he promised to end the war. "There will be difficult days ahead. But tonight, I'd like to tell you how we will complete our mission and end the war in Afghanistan," said Obama.
Critics are saying that the US president is using Osama's death as a major trump card for his next election campaign.
"It is time to renew America. My fellow Americans, we have travelled through more than a decade under the dark cloud of war. Yet here, in the pre-dawn darkness of Afghanistan, we can see the light of a new day on the horizon.
"The Iraq war is over. The number of our troops in harm's way has been cut in half, and more will be coming home soon. We have a clear path to fulfil our mission in Afghanistan, while delivering justice to al-Qaida," Obama said.
His visit came days ahead of the Nato summit later this month. He also signed a pact with Afghan President Hamid Karzai on future US-Afghan ties.
"We will not build permanent bases in this country, nor will we be patrolling its cities and mountains. That will be the job of the Afghan people," Obama said in his speech at Bagram Air Base.
"We've made it clear that they can be a part of this future if they break with al-Qaida, renounce violence, and abide by Afghan laws. This time of war began in Afghanistan, and this is where it will end," he said.
He also promised to remove 23,000 troops later this year and further reductions will see all the 88,000 troops out by the end of 2014.