Before signing off from the The Association of Southeast Asian Nations (Asean) Summit on Thursday (9 September) night, US President Barack Obama apparently snubbed his Filipino counterpart Rodrigo Duterte, who had earlier called him 'a son of a b***h'. Obama went around shaking hands with all the leaders present at the final summit meeting in Vientiane, Laos, but avoided Duterte.
Obama's reaction was reportedly triggered by yet another humiliating remark made by Duterte. This time he reportedly veered off his prepared speech and took a dig at American soldiers, blaming them for killing his "ancestors".
Earlier, Duterte had toned down his language following outrage against his blatant remarks and had even said he regretted swearing at the "most powerful president" of the world. Duterte's remarks came after Obama raised concerns about the human rights violations allegedly being committed as part of the Philippine leader's bloody drug war. A scheduled meeting between the two leaders was cancelled following the verbal spat.
On Thursday, Duterte raised the same topic again during an impromptu speech at the final summit meeting in Laos. An Indonesian diplomat present at the meeting, told Agence France Presse that Duterte veered off his prepared speech, "showed a picture of the killings of American soldiers in the past", and said: "This is my ancestor[s that] they killed. Why now we are talking about human rights."
The diplomat said that the atmosphere at the gathering following Duterte's statement was "quiet and shocked".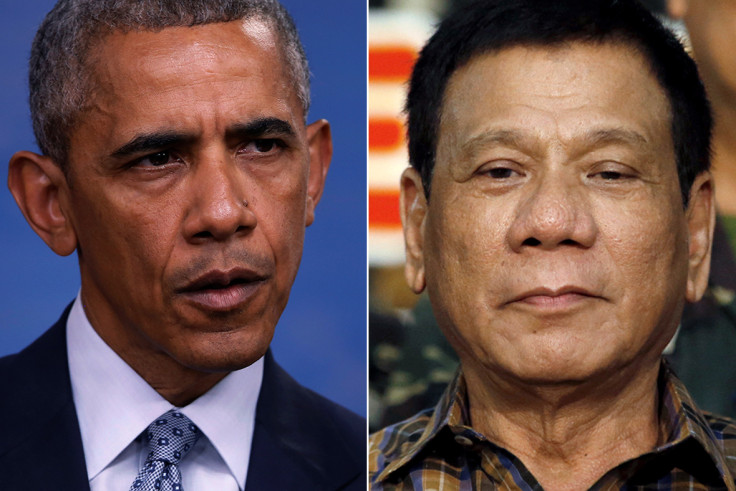 Later, while bidding farewell to all the leaders at the meeting, Obama shook hands with everyone, except Duterte, a source told GMA news network. However, Filipino Foreign Affairs Secretary Perfecto Yasay Jr was quoted as saying that the two leaders missed a handshake as they just happened to walk in opposite directions at that time.
Following the cancellation of the scheduled first meeting between the two leaders, they were reported to have met informally on the sidelines of the summit. Obama is said to have shaken hands with Duterte then. The US president was also quoted as saying earlier that he did not take Duterte's comments personally.