At the funeral of pedicab driver Eric Sison, a young chick struts between the pictures of the smiling 21-year-old in happier times. Filipino funeral customs dictate that if the cause of death is murder, the chick will eat away at the murderer's conscience and bring him to justice.
Sison's open casket is displayed outdoors, but few venture to look inside at his young face. A drug suspect, Sison, 21, has been shot a dozen times during a police operation on August 23 in Pasay, southwest of Metro Manila.
Sison's case is not rare. Thousands have now been killed as part of Rodrigo Duterte's war on drugs. But his murder has attracted attention after local TV aired footage showing Sison apparently willing to surrender before being repeatedly shot.
The police claim the suspect ran away when they accosted him – instead of stopping – and fired first at lawmen after jumping onto the roof of a neighbour's shack.
"Why did they shoot him so many times ?" said Rachelle Bermoy, his 18-year-old widow, who denies the drug allegations. "Eric was only a pedicab driver. He was the one bringing income home."
Rachelle was taking care of their baby home when Eric got killed. "We celebrated his first birthday last month," she said.
"I woke up to gunshots, I know they were hunting someone to kill him," said Joselyn Noveario, a neighbour. She said she supported the ongoing war on drugs, but was concerned about cases of mistaken identity.
"The couple just settled down in the area. You could see the guy standing by outside. For me he was a typical teenager," added another neighbour.
Mary Jane Buco, a local councillor said that it was unlikely that Sison, as a pedicab driver, could afford a gun: "He wanted to surrender," she said.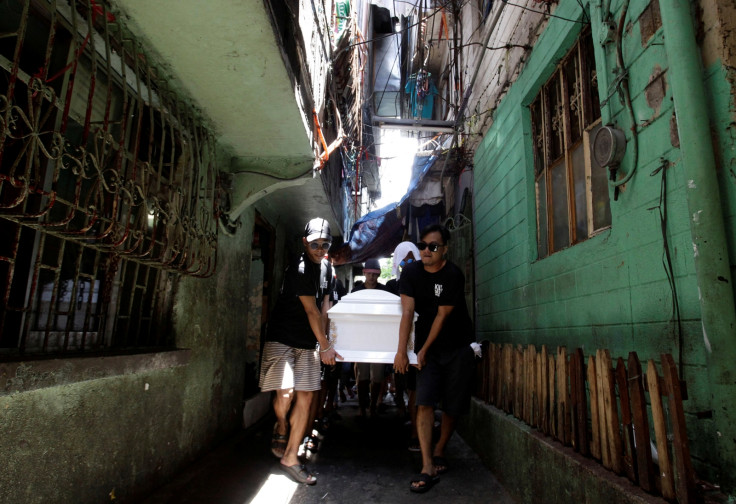 Around the casket, after dark, the street is crowded with noisy tables with people playing billiards or gambling to try to refund costly funeral expenses. In the Philippines, the family of the deceased is expected to serve food to visitors and cover other fees.
The relatives of Sison have filed a complaint before the National Bureau of Investigation (NBI). Since then, three policemen have been relieved from duty. A couple of days later, Sison's body also tested positive for gunpowder residue. According to the Pasay police, the laboratory result supports the policemen's claim that Sison shot at them first.
The day of Sison's funeral, we met another mourning family at the Pasay public cemetery. Jennelyn Olaires has to step on other people's graves to make her way to access her husband's grave. It has now been 40 days since Siaron was gunned down by unidentified men riding a motorbike, close to one of Manila's busiest highway. The picture of Olaires went viral after showing her weeping at his side.
"My son was my best friend. I don't have any more tears to shed."
To mark 40 days since his death, Jennelyn lights up two candles in front of the picture of Mickael and bows to the wall a while before bursting into tears.
Many Filipinos fear that the soul of their loved ones will continue to wander and even haunt them. "My life has stopped. Before we had dreams, now I don't have any plans for the future", she says, her head covered by a black baseball cap.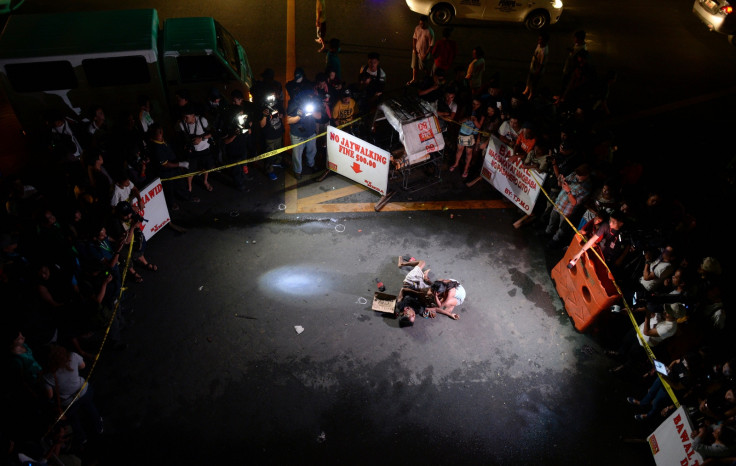 Jennelyn would later admit her partner had used drugs "some times" but never sold any. "He actually wanted dealers who were selling to kids to get arrested." That is why Siaron had voted for Rodrigo Duterte to be president, according to the rest of the family.
"Kill drugs but not people", pleads his father, Solomon Siaron, in a message to the Philippine president. His mother, living in Bahrain like many overseas Filipino workers, was not able to attend the burial. " My son was my best friend", remembers Solomon. "It's hard to accept, but it's time after 40 days. My heart keeps on bleeding but I don't have any tears to shed."
What is happening in Manila?
Philippine President Rodrigo Duterte launched his bloody war on drugs two months ago after his landslide election as leader in May. The 71-year-old ran on an ant-drugs trade ticket and soon after his election told Filipinos to "kill drug dealers" as well as urging the police to take a zero-tolerance line. Since then, 2,400 people have been killed, many of them by police but many also by ordinary citizens. In a drug-ravaged state that has long suffered from the spillover of organised crime as well as addiction, his campaign has received support from many areas of Filipino society, but critics say that the police are acting with impunity while many are using the drug war to settle scores. Duterte has responded to criticism with ridicule and in some cases outright abuse, recently branded Barack Obama a "a son of a b****' when he raised concerns.
---
Marianne Dardard is a journalist based in Manila
---