Overweight Brits should have to pay more for flights and should not ride horses, academics have said.
A Norwegian professor and a study by the Duchy College in Cornwall have highlighted two problems caused by the mounting obesity crisis.
Researchers in Cornwall found that a third of recreational riders were too heavy for their horses.
Published in the Journal of Veterinary Behaviour, they found health problems caused by overweight riders included back pain and lameness, as well as behaviour issues such as bucking and rearing.
Hayley Randle, one of the scientists involved in the study, said: "People tend to think that horses are such big animals they must be OK, and not to take notice of the weight issue of riders. But the health impact on the horse can be quite extreme, quite quickly. It seems to be a growing problem."
Of the 152 horses studied, only five percent of the riders were the optimum weight for their mount. The ideal weight of a horse rider is less than 10 percent of the weight of the horse.
Riders weighing between 10 and 15 percent are deemed satisfactory, while those over 15 percent pose a welfare risk to the horse.
Randle said: "The problem is that these ratios are not widely known by people in the horse industry.
"It is definitely a potential welfare issue. These are broad-brush guidelines. They don't take account of all factors, such as the age of the horse, the breed, the style of riding or the experience of the rider.
"But they are still important and helpful and people are not taking enough notice of them."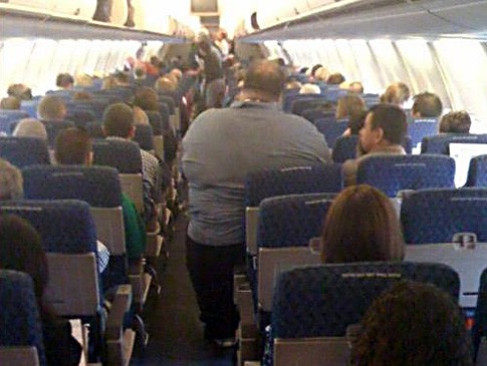 'Scales at the check-in'
Meanwhile, Norwegian academic Bharat Bhatta has said overweight aeroplane passengers should have to pay more for their ticket because of the additional fuel needed to carry them to their destination.
Writing in the Journal of Revenue and Pricing Management, he said: "As weight and space are far more important in aviation than other modes of transport, airlines should take this into account when pricing their tickets."
The publication's editor Ian Yeoman added: "For airlines, every extra kilogram means more expensive jet fuel must be burned, which leads to CO2 emissions and financial cost.
"As the airline industry is fraught with financial difficulties, marginally profitable and has seen exponential growth in the last decade, maybe they should be looking to introduce scales at the check-in."
British Airways currently provides free extension seatbelts to passengers who are overweight but expects them to buy an extra seat if they are still too large to fit into one.
In 2009, United Airlines in the US put a similar policy in place; if passengers could not fit into a seat, could not do up their seatbelt or could not get the arm rests down, they would be expected to buy an additional ticket for the next flight if there were no spare adjacent seats.
Commenting on Bhatta's suggestions, Bob Atkinson of TravelSupermarket.com told the Daily Express: "Customers are already paying extra charges for their baggage, but actually making one for a person - I think that's a bit distasteful."