Luxury Cars Seized from African Dictator's Son Sold in Paris for €3.1m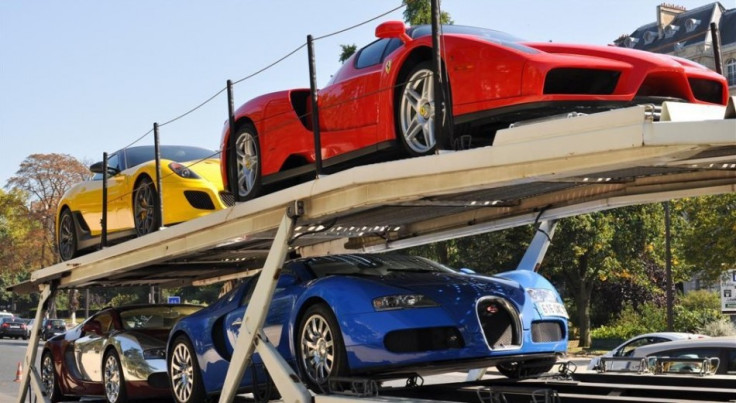 A fleet of luxury cars belonging to the playboy son of an African dictator has been auctioned in Paris for €3.1 million (£2.7 million) after being seized by French police investigating the alleged theft of public funds in Equatorial Guinea.
Among the vehicles sold by French auction house Drouot were two Bugattis, two Bentleys, a Rolls-Royce, a Ferrari, a Porsche, a Maserati and a Maybach. Most had little or no mileage and fetched an average of €311,000 each.
The cars were impounded by investigators in 2011 as part of a two-week raid of Teodorin Obiang's €80 million, 101-room mansion near the Champs Elysees as part of the "bien mals aquis", or ill-gotten gains investigation into the alleged theft of billions of dollars of public funds by African despots and their families.
Authorities made an exhaustive list of luxury items in the house, including paintings by Degas and Renoir, some of the world's most expensive vintage wines as well as jewellery and antique furniture.
An arrest warrant was issued for 43-year-old Obiang, son and heir apparent of Teodor Obiang, ruler of oil-rich Equatorial Guinea.
According to French judicial documents, in November 2009 Teodorin Obiang imported 26 luxury cars from the US to France for $12m (£7.4m). They included seven Ferraris, four Mercedes-Benz, five Bentleys, four Rolls-Royces, two Bugattis, an Aston Martin, a Porsche, a Lamborghini and a Maserati.
He subsequently transported many of these vehicles to Equatorial Guinea, despite most of the country's roads being dirt tracks negotiable only by four wheel drives.
After monitoring his accounts, authorities seized Obiang's mansion and property when they found it had been purchased using money tranferred from state funds.
The government of Equatorial Guinea has tried to block the investigation, claiming that Obiang's mansion was part of the country's embassy, and thus protected by diplomatic immunity.
Teodorin Obiang was recently made the country's second vice-president, with his lawyers claiming that this renders his prosecution by French authorities illegal.
However, in a landmark ruling, French judges recently decided that diplomatic immunity did not extend to property bought through the theft of public money.
Obiang is applying to have the judgment overruled and his property returned in an appeal to France's Cour de Cassation, but the ruling has spurred prosecutors into intensifying the investigation of other African despots with sizeable assets in Paris, including the President of Gabon, Ali Bongo Ondimba, and the President of Congo-Brazzaville, Denis Sassou Nguesso.
The lawsuits were originally brought by two NGOs and the Association of Congolese Citizens abroad, but the government of then president Nicolas Sarkozy refused to pursue them before the Cour de Cassation dramatically overruled the government in 2010 and ordered state investigators to pursue the charges.
Bourdon told The Independent: "I have had so many threats and insults and libel actions that I sometimes wish that I had never brought this case. But my spirits revive when I recall the hundreds and hundreds of messages that we have received from African people saying, 'You have given us hope for the first time. Please continue, continue, continue'."
© Copyright IBTimes 2023. All rights reserved.