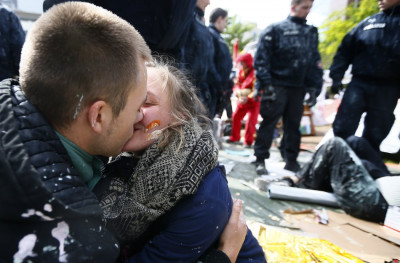 Police officers were covered in paint as they moved in to break up an Occupy Frankfurt camp that was set up outside the European Central Bank in Frankfurt.
The demonstration, which saw around 100 "indignants" camp outside the bank since October, was the longest continuous protest in Europe.
As Germany's banking capital prepared for a four-day conference on monetary policy, authorities are braced for a series of anti-capitalist protest rallies.
The renewed protests signal increased disenchantment with the country's response to the eurozone crisis, amid concerns that Greece may drop out of the single currency altogether.
The clearing of the camp was largely peaceful, despite several protesters throwing white paint as officers moved in.
Demonstrations with as many as 40,000 people are expected to besiege the city until 19 May, leading police to clear the camp in order to set up security around the bank.
Serious disorder is threatened, with Frankfurt mayor Claudia Roth expressing concern that events could turn violent.