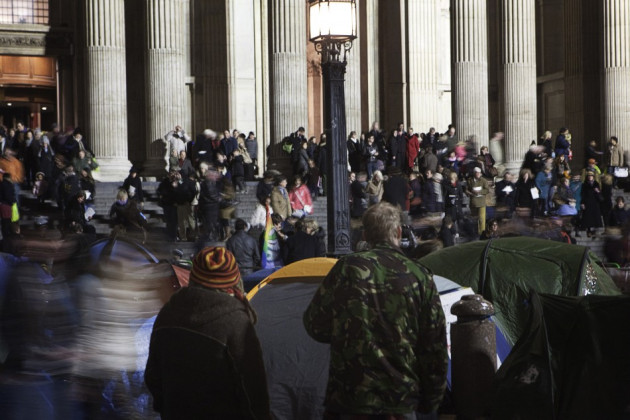 Occupy London's camp at St Paul's will be forcibly removed "as soon as possible" after a High Court judge gave the green light to their eviction.
The ruling ordered the eviction of the anti-capitalist protest camp after a legal challenge by the City of London Corporation, which owns much of the land around the cathedral.
"We took this action to clear the tents and equipment at St Paul's. We hope the protesters will now remove the tents voluntarily," said Stuart Fraser, the corporation's policy chairman.
"If not, and subject to any appeal proceedings, we will be considering enforcement action as soon as possible.
''Lawful protests are a regular part of City life but tents, equipment and increasingly, quite a lot of mess and nuisance, is not what a highway is for and the public generally is losing out - as evidence before the court made clear.''
Justice Keith Lindblom gave the corporation a possession order to reclaim the land occupied by protesters.
"The justice system has decided to stir up the hornet's nest. By evicting us they only serve to enhance our PR campaign," read a tweet from the Occupy London account.
Lindblom said he was not passing judgment on the nature or morality of the protest but merely making a legal ruling.
He refused Occupy London the permission to appeal at the High Court, meaning they must make an application to the Court of Appeal if they want to challenge the decision.
The corporation has been chasing the protesters through the courts to have them removed from the front of St. Paul's since October.
It cited health and safety and crime concerns, as well as fears that the encampment was attracting the homeless.
Occupy London has been a vocal critic of the corporation, which it has accused of being overly secretive. Occupy said the corporation should be more transparent about its activities and financial interests as it wields enormous power and influence in the City.
There are four sites across London with Occupy protesters in them at a St Paul's, Finsbury Square, Sun Street and Old Street magistrate's court.