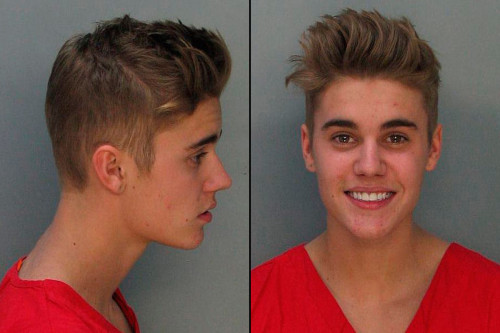 Just days after he was arrested and charged with driving under the influence and with drag racing in Miami, Justin Bieber has managed to get off the hook - again.
In a dramatic U-turn, all but one of the charges brought against the wayward teenage pop sensation have been dropped by a Miami court.
Bieber was charged with driving under the influence, speeding, resisting arrest, and driving with an expired licence after he was stopped by police in a residential area of Miami Beach in the early hours.
The Canadian-born star is said to have failed a sobriety test and admitted to having drunk beer, taken prescription drugs and smoked marijuana before getting behind the wheel of a yellow Lamborghini.
Although the 19-year-old was expected to be hauled in front of a jury, Miami state documents published on the Miami-Dade County Court Clerk's website revealed that he was released on bail of $2,500 and will now only be charged with resisting arrest without violence.
For many critics, the turn of events stands as proof that there are two justice systems: One for the rich and famous and another for everybody else.
Some have lambasted the star's arrogance for smiling in his police mugshot and waving to fans as he left jail.
Bieber's lawyers claimed that police had "exaggerated" the DUI and speeding allegations.
Bieber was allegedly drink-driving at speeds of 60mph but sources claimed that there was evidence that he was driving at 27mph in a 30mph zone when he was stopped.