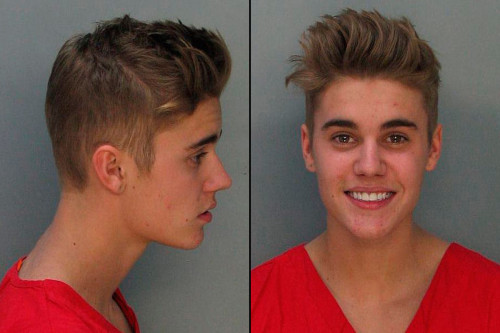 Troubled Canadian pop idol Justin Bieber may face deportation from the United States, following his recent arrest in Miami.
A petition posted on the White House website reads: "We would like to see the dangerous, reckless, destructive, and drug abusing, Justin Bieber deported and his green card revoked. He is not only threatening the safety of our people but he is also a terrible influence on our nation's youth."
The total number of signatures is nearly 16,000. at the time of writing. If the campaign obtains 100,000 signatures by 22 February, President Barack Obama is required to respond.
Bieber has also received criticism from his fellow artists. Knocked Up actor Seth Rogen, who was friendly with Bieber at the 2011 MTV Awards, posted on his Twitter account: "All jokes aside, Justin Bieber is a piece of s***."
Luckily, the Canadian teenage singer has the support of his fans. He tweeted his 50 million Twitter followers, the Beliebers:
YOU ARE ALL WORTHY NO MATTER WHAT ANYONE SAYS >> BE STRONG GOD IS WITH US ALL> MY BELIEBERS CHANGED MY LIFE> I WILL FOREVER BE GRATEFUL

— Justin Bieber (@justinbieber) January 24, 2014
The 19-year-old posted bail of $2,500 (£1,500), after a brief court appearance, where he was accused of driving under the influence of alcohol, marijuana and prescription drugs.
He was also charged with resisting arrest and having an expired driving licence.
News has also emerged that three police officers have been suspended for giving the singer an unauthorised private escort from Miami's Opa-locka executive airport to a strip club.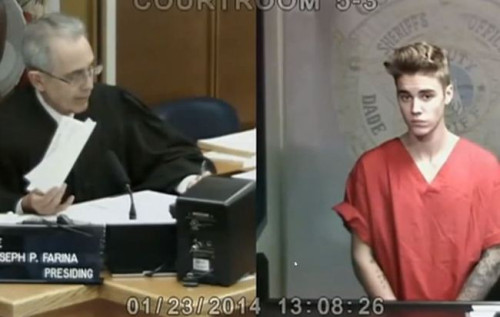 Unconfirmed reports have suggested the officers have been suspended on full pay pending the outcome of an investigation into the claims, according to Sky News.
The teen idol's behaviour has become increasingly difficult to control, said his manager.
"When Justin was younger, it was 'keep him out of trouble, stop him from falling down, protect him as much as you can from anything that can hurt him'," Braun told The Hollywood Reporter.
"When I try to do that now, he's resentful, he pushes away and rebels. What I've come to learn is: Be there, give the best advice you can, but he has to be allowed to make his own decisions - and his own mistakes."
Bieber is the highest-paid teenager in the world of entertainment, worth $58m (£35m) according to Forbes magazine.
Watch how Bieber's arrest kicked up a Twitter storm: