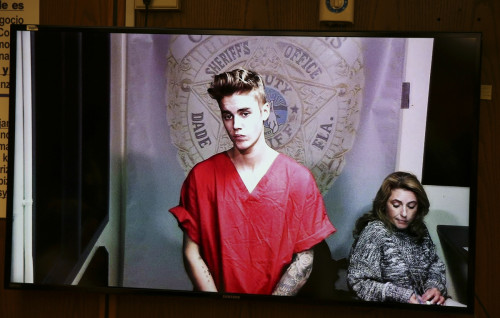 The 19-year-old pop star Justin Bieber is spending £5,000 a week on marijuana and smoking 12 bongs every day, according to a close friend.
"Weed plays a huge part in Justin's life," a source told the Sun on Sunday. "He smokes 12 bongs a day and can spend £5,000 a week. He also takes relaxant Xanax and sleeping aid Ambien.
"For his sizzurp [cough mixture], Justin gets bulk shipments of the codeine syrup he likes from Canada, and mixes it with Fanta Pineapple before dropping a Jolly Rancher sweet in it.
"He even has a child's sippy cup of it by his bed."
Bieber is also said to be taking the fat-burning horse steroid Clenbuterol. Of particular worry is the use of Ambien, a prescription muscle relaxant, used for the treatment of insomnia.
Its side effects include hallucinations and amnesia. According to the US Drug Enforcement Administration, Ambien is quickly overtaking illegal sedatives as the most common date-rape drug.
His ex-housekeeper Tatiana Voziouk told the Sunday People: "The drugs and hangers-on are turning Justin into a zombie.
"I'm terrified he'll become the next Michael Jackson. If he doesn't act now I will hear one day that he has passed away. It is heartbreaking.
"I have decided to speak out now as I care for him."
Voziouk says marijuana would be delivered to the star's house near Los Angeles by a legal drug company which supplies for medicinal purposes.
The teenager's erratic behaviour is causing concern for friends and family. Bieber is becoming increasingly difficult to control.
His minders were recently fired for trying to curb his behaviour. The source added: "No one can control him, no matter how powerful."
"I'm usually up pretty much all night until I know Justin is in," his manager Scotter Braun told the Hollywood Reporter. "At night is when trouble can come."
The singer is fast gaining a reputation as a bad-boy troublemaker. He is also under investigation for causing £12,000 worth of damage to a neighbour's house in an egg attack earlier this month.
Watch video of Justin Bieber's arrest and court appearance