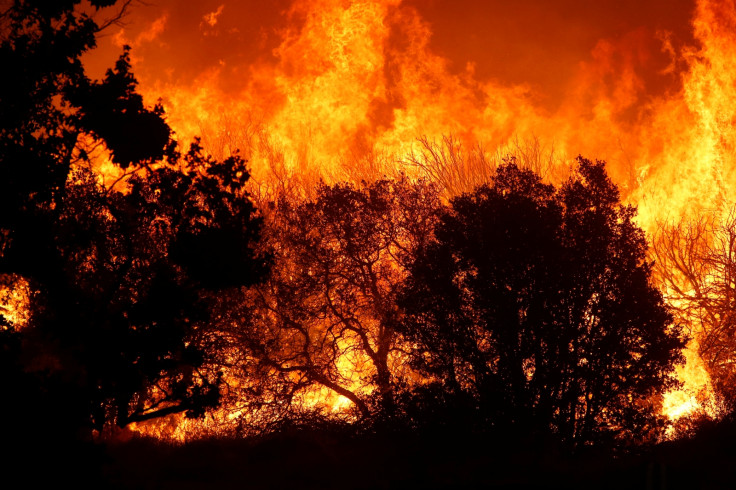 Thousands of homeowners are under mandatory and voluntary evacuation orders as the exploding Pilot Fire in the San Bernardino mountains in Southern California continues to surge.
The fire 50 miles east of Los Angeles more than quadrupled in size in just 24 hours to 6,300 acres, almost 10 square miles. It was only 6% contained as of last report by state fire officials.
The fire started from an unknown cause Sunday 7 August between Silverwood Lake and Lake Arrowhead. off Highway 38 Roadways and a section of the famous Pacific Coast hiking trail through the San Bernardino National Forest have been closed.
Some 4,700 homes in the mountains and 500 in the town of Hesperia have been targeted for evacuation by officials.
Flames could be seen creeping down the hillside toward homes in Summit Valley, pushing up billowing new clouds of black smoke. Bulldozers were cutting fire lines to protect the homes, and air tankers and helicopters continued dropping fire retardant and water in a bid to halt the spreading flames. Currently 850 firefighters are battling the massive blazes with 5 bulldozers, 8 helicopters and 8 air tankers.
Winds are pushing the fire into two areas of the blaze, north and northeast. The air in the affected area of high desert was so thick with smoke that the mountains were obscured, and ash rained down. Officials have issued air quality alerts for the area.
The blaze is burning in a sparsely populated area that doesn't have much of a fire history. The vegetation is dense and hasn't burned in years, creating particularly challenging conditions for firefighters.
"Because the vegetation is so incredibly dry, all it takes is a little spark and it's just been chewing through it," Bob Poole of the US Forest Service told the Los Angeles Times. "That's been our difficulty."
No one has yet been injured in the fire, nor has any structure been damaged.
Most of the homes targeted by the evacuation orders are not yet in danger, but officials fear traffic jams down the twisted mountain roads could be a problem in the event of a sudden need for a mass exodus as the fire grows.
Two large San Bernardino high schools have been turned into evacuation centers, and a fairground in Victorville, California, is being used to house animals from evacuated homes.