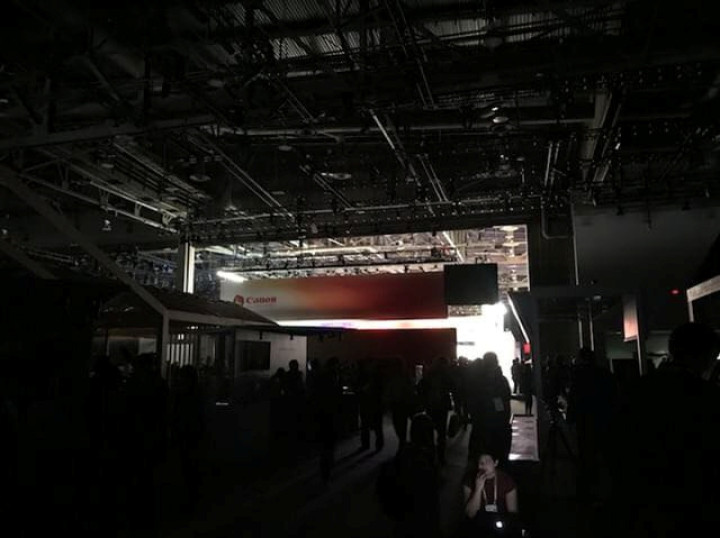 A major power outage at the Consumer Electronics Show (CES) 2018 in Las Vegas on Wednesday(10 January), left the world's largest annual consumer tech trade show in the dark for nearly two hours. The blackout affected two halls of the Las Vegas Convention Center bringing a major portion of the conference to a halt on the second day of the week-long event.
The convention center's Central Hall which features massive booths for tech giants Sony, Samsung, Intel, and LG, were also affected.
The lights went out at around 11:13AM PST after over an inch of rain fell in Las Vegas, causing flash flooding across the city.
The Consumer Technology Association (CTA), the organisers behind CES, blamed the glitch on the heavy rains the day before.
"Today at approximately 11:15 a.m. PT, the Central Hall and South Hall bridge meeting rooms at the Las Vegas Convention Center lost power," CTA said in a joint statement with the Las Vegas Visitor and Convention Authority and NV Energy. "A preliminary assessment indicates that condensation from heavy rainfall caused a flashover on one of the facility's transformers.
"We are grateful to NV Energy for their swift assistance, to our customers and their clients for their patience and to the staff for ensuring the safety and security of all attendees and exhibitors."
Organizers said power was restored to the convention center's South Hall within minutes while other areas took much longer. Power was restored and the lights were back on at 2:10PM, CES said.
The irony of the incident was not lost on CES attendees and other social media users with the hashtag #CESBlackout quickly going viral.
Twitter was soon flooded with photos and videos of the eerily darkened halls while some companies pounced on the opportunity to advertise their ware.
"Power goes out at CES? No problem for the low-light capabilities of Nikon DSLRs," Nikon tweeted.
"CES is over. You can all go home now," Fortune Magazine's tech editor Rachel King tweeted. Another Twitter user wrote: "Right now all the flashlight vendors at CES are like, 'Now it's our time to shine!'"
"OH MY GOD!!! SKYNET HAS FINALLY COME ONLINE", one person exclaimed.
"Someone told Alexa to turn off the lights", one person simply wrote.