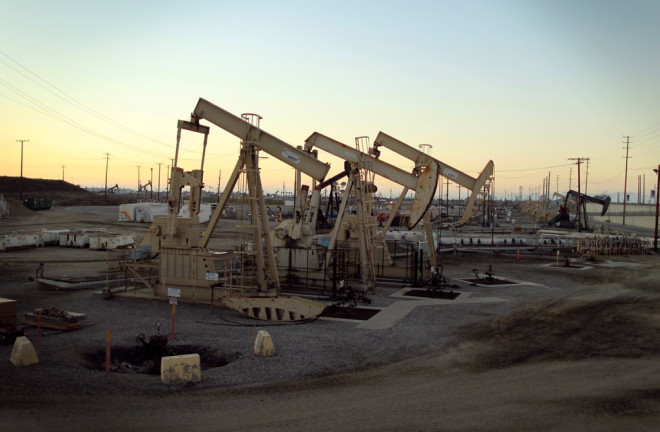 Crude-oil prices retraced some of the preceding session's losses amid a bullish sentiment about Ukraine and bearish fears over global economic growth.
The April Brent contract added 38 cents, or 0.4%, to $108.46 a barrel.
The April US contract added 34 cents or 0.3% to $101.47 a barrel.
The standoff between Russia and the Ukraine over Crimea continued to support oil prices.
In addition, turmoil in Libya continued to provide support to crude prices. Earlier, reports said the Libyan navy had taken control of a North Korea-flagged oil tanker that was looking to buy more than $30m worth of crude from the Es Sider port, which is held by rebel forces.
David Hufton of oil brokerage PVM said in a note to clients "If anything, the confrontation worsened with Russia tightening its grip on the Crimea.
"If the [cessation] referendum goes ahead next Sunday a selloff later in the week has to be budgeted for."
Commerzbank Corporates & Markets said in a note to clients: "Brent is continuing to trade at $108 per barrel and has thus not profited from the growing tensions in Libya. All the same, Brent fared better than WTI yesterday, the latter dropping to $101 per barrel. The situation in the west of Libya appears to be easing after an agreement was reached with protesters at the El Sharara oil field. Libya's state-owned National Oil Corporation (NOC) expects oil production at the second-largest oil field to regain its normal level of 340,000 barrels per day before the day is out.
"By contrast, the situation threatens to escalate in the east of the country. Yesterday, the parliament decided to use military force to clear the oil terminals that have been occupied by rebels for half a year. In one of these terminals, an oil tanker flying the North Korean flag was illegally loaded with oil at the weekend. If necessary, the government intends to forcefully prevent the ship from setting sail. The rebels have threatened strong countermeasures if this happens."
"This morning there are conflicting reports about the oil tanker: while the government claims that it has brought the ship under its control, the rebels deny this. Given the latest escalation, a peaceful and permanent end to the blockade of the oil terminals appears more remote than ever, making any normalization of Libyan oil production in the near future unrealistic.
"The Brent price remains well-supported on the back of the missing supply from Libya. The still simmering crisis over the Crimean peninsula is also likely to preclude any further price fall. This weekend, a referendum is to be held there to decide whether the Crimea should accede to Russia. In this case, new sanctions may well be imposed on Russia," Commerzbank added.
The price of both the Brent and US contracts dropped on 10 March amid fears of an economic slowdown in China, the world's second-largest oil consumer.