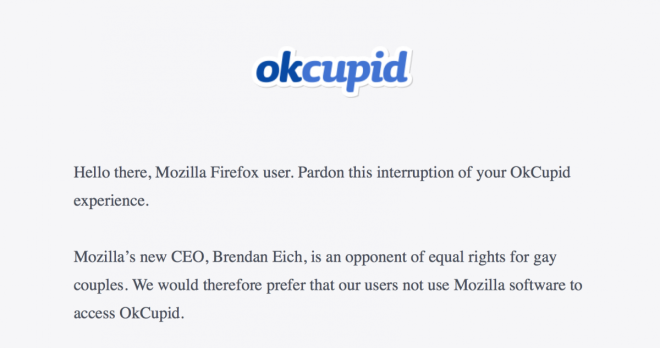 The online dating website OKCupid is seeking to block Firefox users from accessing the site after Mozilla appointed Brendan Eich - who has previously supported a ban on same-sex marriage - as its new CEO.
Eich, who is a co-founder of the Mozilla, was appointed last week as CEO, immediately seeking to deflect criticism of his perceived anti-gay stance by writing a blog about inclusiveness at Mozilla.
However many groups have continued to voice their opposition to Eich's appointment and since Monday, any Firefox user visiting the OKCupid dating website would have been greeted with a letter outlining why the operators of the website no longer want people using Mozilla's Firefox web browser access the site: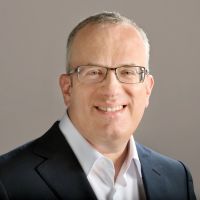 "Mozilla's new CEO, Brendan Eich, is an opponent of equal rights for gay couples. We would therefore prefer that our users not use Mozilla software to access OkCupid."
OKCupid does allow Firefox users who still want to continue using the browser access to the full site at the bottom of the letter, but also encourages them to choose alternatives such as Google's Chrome or Microsoft's Internet Explorer.
Prop 8 support
The reason OKCupid has taken the step is because of Eich's support for Porposition 8, a 2008 ballot initiative that aimed to ban same-sex marriage in California.
OKCupid said had Eich and the rest of the supporters of Proposition 8 succeeded, "then roughly 8% of the relationships we've worked so hard to bring about would be illegal."
Mozilla has responded to the move by OKCupid by stating that it is in no way anti-gay:
"Mozilla supports equality for all, including marriage equality for LGBT couples. No matter who you are or who you love, everyone deserves the same rights and to be treated equally. OkCupid never reached out to us to let us know of their intentions, nor to confirm facts," a statement read.
Inclusiveness
The crux of the issue is a $1,000 donation Eich made to support Potposition 8 six years ago. OKCupid believes that even though this donation was made a long time in the past "Eich's boilerplate statements in the time since make it seem like he has the same views now as he did then."
Eich has addressed the concerns of LGBT groups since his appointment, writing on his own blog:
"I am committed to ensuring that Mozilla is, and will remain, a place that includes and supports everyone, regardless of sexual orientation, gender identity, age, race, ethnicity, economic status, or religion."
The full OKCupid letter to Firefox users: