An Oklahoma woman who thought her dog was killed in yesterday's tornado has found it alive during a television news interview.
Barbara Garcia was being interviewed live by a CBS reporter about how she survived the devastating tornado which has swept through the town of Moore in the Oklahoma City suburbs.
Garcia, whose home was destroyed in the storm, mentioned during the interview that her dog was still missing amidst the rubble.
The dog's head was then spotted among the twisted metal and debris, before being pulled to safety - to the obvious delight of the interviewee.
Garcia described how she originally tried to survive the huge tornado in the bathroom of her home. She said: "I was sitting on the stool holding my dog [as] this was the game plan through the years, to go into that little bathroom.
"The electric went off in the bathroom about the same time I felt the stool come up out of the floor and I rolled around a little bit."
Garcia added she then lay there in the rubble trying to find her missing pet.
Standing in her destroyed home, she said. "I never lost consciousness and I hollered for my little dog and he didn't answer and he didn't come so I know he's in here somewhere."
It was then the camera turned to see her dog still alive with minor injuries.
After being reunited with her beloved dog, Garcia said: "Well I thought God just answered one prayer to let me be okay but he answered both of them".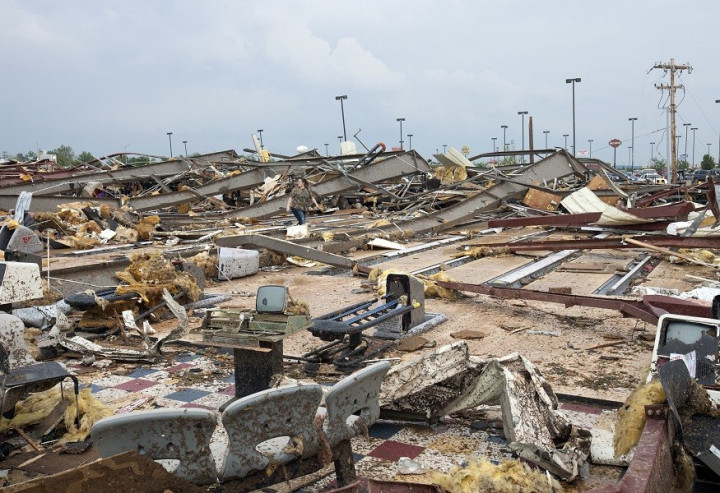 Around 90 people are thought to have been killed so far in the tornado, including dozens of children.
The tornado, measuring at least a mile in width, tore through the suburbs of Oklahoma City with winds up to 200mph (320km/h), completely destroying buildings including one primary school.
Less than 1% of all tornados reach the speed of this ferocious storm, which President Barack Obama has declared a major disaster.
More than 120 people have been receiving treatment at hospitals, including about 50 children. Search-and-rescue efforts were continuing throughout the night.
Around 20 of the victims were children, killed when Plaza Towers Elementary School took a direct hit from the tornado. Several more children are thought to be still trapped in the rubble.
"The school was flattened. The walls were pancaked in," said Oklahoma's Lt Gov Todd Lamb.
"There's still roughly two dozen children that are missing. There have been some bodies recovered from that school and it's absolutely horrific and devastating."
Oklahoma governor Mary Fallin added: "This is a very sad day for the state of Oklahoma - a very hard day and very tragic day.
"Our prayers and our thoughts are with all the Oklahoma families that have been hit hard by this terrible storm. We are doing every single thing that we can to assist those that are in need right now."
The storm destroyed scores of buildings in Moore, a community of 41,000 people about 10 miles (16 km) south of Oklahoma City. It was the fourth tornado to hit Moore since 1998. A twister also struck in 2003.
READ:
Oklahoma Tornado Enters Ranks of World's Deadliest Twisters [PHOTOS+VIDEO]