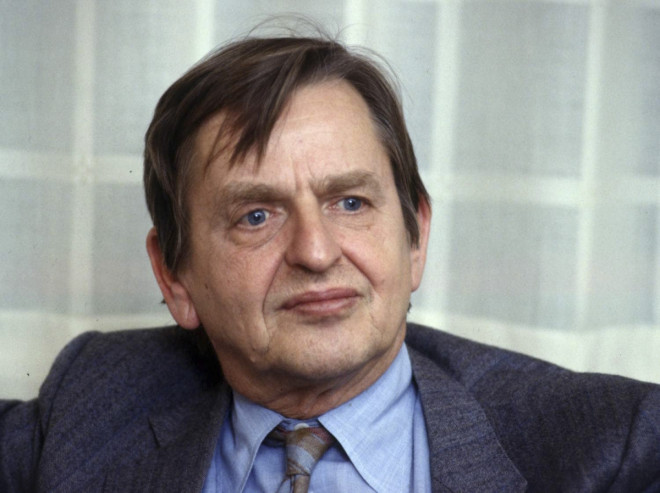 Days after revelations that the late crime blockbuster novelist Stieg Larsson sent Swedish police 15 boxes of papers linking the killing of Prime Minister Olof Palme to South Africa, Sweden's greatest unsolved murder mystery takes another bizarre turn: the dismissal of a key suspect's alibi.
The Girl with the Dragon Tatoo writer, who died of a heart attack in 2004, identified Bertil Wedin, a Swede living in Cyprus, as the killer.
Wedin, who denied in an interview with tabloid Svenska Dagbladet any involvement with the crime, was said to have been a mercenary hired by South African security services.
But Svenska Gadbladet, who had access to Larsson's files, found that a rightwing associate of Wedin, Alf Enerstrom could have his alibi shattered.
Enerstrom, a doctor with a conviction for shooting a policewoman and a vocal critic of Olof Palme's social-democrat and anti-colonialist views, was investigated by police but maintained that he was at home with his then-partner Gio Petre at the time of murder – an account that she supported.
However, Petre, a former actor who separated from Enerstrom in the late 1990s, told the Swedish paper that things went differently.
On the night of the killing, the woman went to bed early but Enerstrom left the flat saying that he had to put money on the parking meter.
"I thought it was strange because it was free parking on a Friday night and over the weekend. Then, he came back home late," she said.
Petre said she "did not dare" to say this version of the events because she was scared of Enerstrom.
"I was scared of Alf, he was violent. And you are the first to ask about this in a long time," she said.
Enerstrom, 83, was sentenced in 2004 to psychiatric care for attempting to gun down a policewoman.
The former partner told Svenska Gadbladet that Enerstrom owned a Smith & Wesson revolver – the same gun police believe was used to kill Palme. He hated Palme so much that he told police he saw the late PM as a traitor.
Asked about the murder, Enerstrom denied any involvement. "What Gio says about me is not true. She may well have pulled out the alibi, but what she said before is true. I never went out alone".
Palme was gunned down as he walked home from a cinema with his wife in February 1986. He was a vocal critic of the apartheid regime in South Africa and rumours that pretoria's security services were behind the hit made headlines in the 90s.
The Social Democrat, who was PM between 1969 and 1976 and again between 1982 and 1986, was hated by conservatives at home and abroad for his anti-colonial views and criticism of the US.
Conspiracy theories have dogged the murder since it was committed, with no fewer than 130 people confessing to the killing. Amateur investigators, including Larsson, were rebranded "privatspanare" or private scouts in Swedish slang.