Team GB's men and women will face Senegal and New Zealand respectively in their opening group games of the London 2012 Olympic football tournament this summer.
The men's side, led by Stuart Pearce, will face the African side on 26 July at Old Trafford in their first Group A match, before meetings with United Arab Emirates on 29 July at Wembley and Uruguay on 1 August at the Millennium Stadium.
Meanwhile, Hope Powell's women face back-to-back Group E matches in Cardiff on 25 July against New Zealand, scheduled to be the first event of the Games, and Sydney gold medallists Cameroon on 28 July, prior to their final group match with Beijing Silver medallists Brazil on 31 July at Wembley.
Men's boss Pearce said: "I am certainly looking forward to this summer. I wouldn't dismiss anyone in the group or teams coming here. It'll be tough - that's tournament football.
"The addition of three overage players can contribute to a really strong side. It will be tough, tournament football always is.
"The squad may not reflect every home nation and celebrity but they will be the best 18 players who have the best opportunity to deliver a gold. That's my only criteria."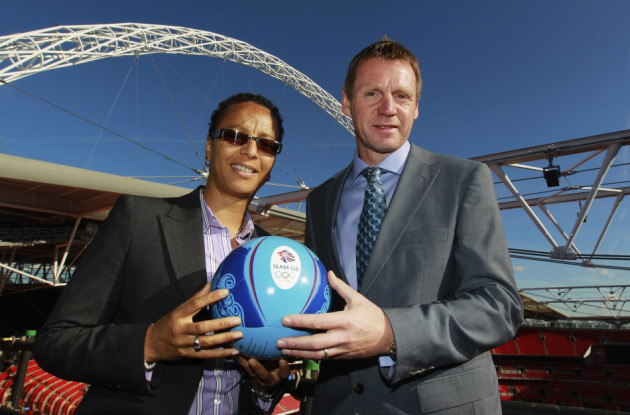 Women's coach Powell added: "It will be a great game against Brazil. They are the tough team in the group. They are always there or thereabouts in major tournaments.
"We can't takeNew Zealand lightly. We played them in the World Cup and it was a tough encounter.
"Cameroon, we've never encountered before, so they're an unknown. I will definitely be selecting on form first, then those that want to play and those that are injury free."
Elsewhere in the men's draw Mexico, South Korea, Gabon and Switzerland will make up Group B, with five-time World Cup winners Brazil in Group C alongside Egypt, Belarus and New Zealand.
Current World Champions Spain are joined by Japan, Honduras and Morocco in Group D, with the two top from each group qualifying for the knock-out phase.
In the women's draw, two teams will qualify from each of three groups of four, with the two best third placed teams also reaching the last-eight.
Japan, Canada, Sweden and South Africa make up Group F in the women's draw, while Gold medal winners in the last two Olympics, United States, will face France, Colombia and North Korea in Group G.
The London Organising Committee of the Olympic Games are desperate to sell the remaining 1.5 million tickets for the football tournament, and chairman Lord Coe hopes with the draw now made, supporters will be attracted to purchase tickets when they go back on sale.
"Today is a huge help because everyone knows who is playing, when they are playing and where they are playing," he said.
"There are some great games. We're finishing our testing procedures which is why tickets are not on sale yet. The GB women's football team is very strong, in the top or three or four sides in the world, and this is a great opportunity to get behind them."
Draws in full:
Men's Olympic Football Draw
Group A: Great Britain, Senegal, United Arab Emirates, Uruguay
Group B: Mexico, South Korea, Gabon, Switzerland
Group C: Brazil, Egypt, Belarus, New Zealand
Group D: Spain, Japan, Honduras, Morocco
Women's Olympic Football Draw
Group E: Great Britain, Cameroon, New Zealand, Brazil
Group F: Japan, Sweden, South Africa, Canada
Group G: USA, France, Colombia, North Korea