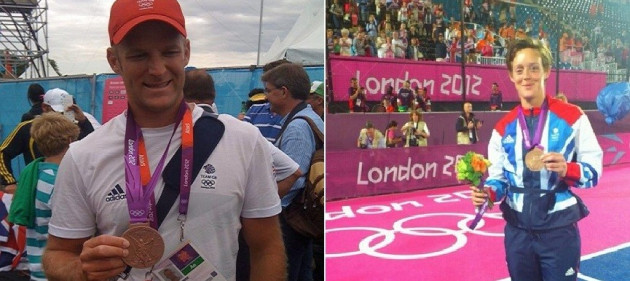 TeamGB Olympians Alex Partridge and Hannah Macleod were targeted by thieves who stole the medals they won at the London Games.
Partridge and MacLeod's bronze medals were taken while they celebrated at a late-night party in Mayfair, central London,
Rower Partridge, 31, said: "It's very, very upsetting. It would mean everything to me to get them back. I worked for 12 years of my life to try and achieve something at the Olympic Games and that's what I've got to show for it.
The men's eight medallist told BBC Sport what happened: "While we were out and dancing away, I noticed I'd misplaced my blazer. In the morning I thought one of the other Olympians must have picked it up by accident.
"I always say to people it's not the medal, it's about the journey, but I guess you don't appreciate the value of it until it's not there.
It was only when I picked up my 16-month-old daughter from nursery it really dawned on me. If it doesn't come back she won't see everything I worked for, which was a representation of being in the best British Olympic team and possibly the best Olympics ever."
Macleod, 28, spoke of her pain on the micro-blogging site about the loss of her hockey bronze.
@teamgb @2012parters My medal was also stolen at the same time. Totally devestated.

— Hannah Macleod (@hannahmacleod6) October 24, 2012
I'm not after punishment.If you picked up a Bronze Olympic medal that isn't yours pls just send anonymously back to GB hockey-Bisham Abbey — Hannah Macleod (@hannahmacleod6) October 24, 2012
Both athletes took to Twitter to publish an image of a man they hope could assist efforts to return the missing medals. Macleod said: "I'm not accusing."
A Scotland Yard spokesman said no arrests had been made, nor had the medals been found.
Partridge and Macleod were among Olympic revelers celebrating after meeting Royals at Buckingham Palace, including the Queen and the Duchess of Cambridge, to celebrate Britain's success at the Games.