Hannah Miley and Caitlin McClatchey both qualified for the semi-finals of their respective events after a morning in the pool that saw Ye Shiwen of China grab the headlines with a dominating performance in the 200m medley.
Great Britain's Miley went in the same heat as Shiwen and managed to finish in fourth place in a time of 2:12:27 to qualify for the semi-finals which take place later this evening.
The Scot needs to finish in the top eight to qualify for the final, but she is aware that it will be almost impossible for anyone to catch Shiwen.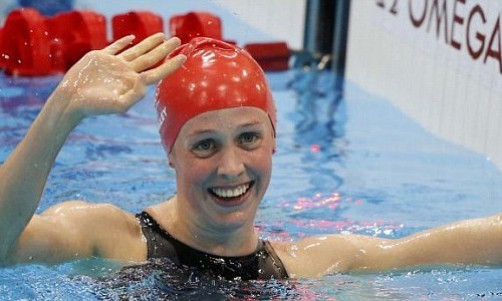 "Seeing her last 100 split, she is definitely the one to beat. I don't think anyone is going to be anywhere near her," said Miley after the race. "To swim that time is good for me and I am really happy to get to the semi and the next step is to try to get into that final. I'm so much more relaxed and happy and I'm enjoying this amazing atmosphere. Anything can happen in the finals in these Olympic Games - I've just got to swim my own race."
Miley will probably need to swim under 2:10:00 to make the final in an incredibly competitive field that includes Australian great Stephanie Rice who won three gold medals at the Beijing Olympics in 2008.
There was no such good news for Sophie Allen who was swimming in the same event as she finished in fifth place and misses out on the semi-finals later today.
However, Team GB did have something to celebrate in the 200m freestyle as McClatchey confirmed her place in the semi-final by clocking up the seventh fastest time of the heats to finish in 1:58:03.
McClatchey will not be joined by Becky Turner who never really figured in her race as she finished in sixth place in a time of 1:58:98 in a field that included two of the favourites for the event in Missy Franklin and Federica Pellegrini.
Italy's Pellegrini won the heat with a time of 1:57:16 as she was pushed all the way by 17-year-old American hope Franklin who will be looking to try and cause an upset should she qualify for the final.
There was no success for Great Britain in the men's 200m butterfly as Joe Roebuck and Joe Pavoni both failed to qualify for the semi-finals of an event that American Michael Phelps was expected to dominate.
Phelps has so far struggled to replicate the form he showed in Beijing and eventually qualified fifth fastest as Austria's Dinko Jukic provided the fastest times of the day to qualify in 1:54:79.