US President Donald Trump announced his decision to replace White House chief of staff Reince Priebus after just six months on the job via Twitter on Friday (28 July). Trump said retired four-star Marine Corps General and and current Homeland Security Secretary John Kelly will take up the position.
"I am pleased to inform you that I have just named General/Secretary John F Kelly as White House chief of staff," Trump tweeted. "He is a great American ... and a great leader. John has also done a spectacular job at Homeland Security. He has been a true star of my administration.
"I would like to thank Reince Priebus for his service and dedication to his country. We accomplished a lot together and I am proud of him!"
The abrupt announcement came as Trump landed aboard Air Force One at Andrews Air Force Base in Maryland after a trip to Long Island, New York. Priebus was also on the plane with the president.
It also came shortly after the new White House communication director, Anthony Scaramucci, in a foul-mouthed interview published by the New Yorker, accused Priebus of leaking to the press. In the interview that went viral, Scaramucci described Priebus as a "f**king paranoid schizophrenic" who would soon be asked to resign.
White House press secretary Sarah Huckabee Sanders, however, said Trump and Priebus have been talking about his exit for two weeks while the president and Kelly had been discussing it "for a while".
"The entire administration loves him [Kelly] and no one is comparable," she said. "He will begin on Monday morning and a cabinet meeting will follow his swearing-in."
Twitter had plenty to say on the latest departure amid weeks of turmoil and reshuffling at the White House and erupted with a slew of memes, comments and jokes.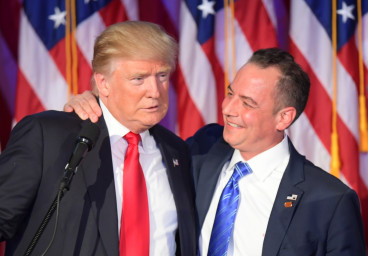 "Welp, it looks like someone's just been thrown under the Priebus", one Twitter user wrote. Another person said: "Man, the West Wing must have a revolving door on it. So far, all Trump has done is hire & fire people. That's what the reality show was for!"
CNN anchor Jake Tapper tweeted: "You may not be a "paranoiac" if they're actually out to get you."
"Let's face it folks: firing Reince Priebus and replacing him with a general is just the latest example Trump thinks of himself as a dictator," Amy Siskind warned.
One Twitter user wrote: "The f**kfest continues. The 2017 WH is hilarious."