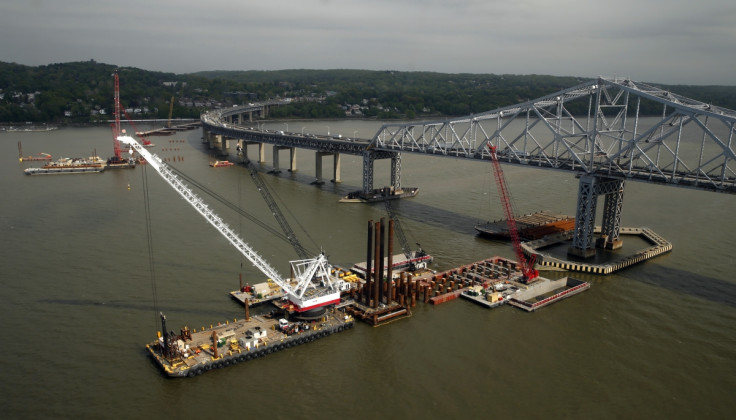 The US Coast Guard is searching for a least two people missing following a collision between a tug boat and a barge on the Hudson River in the USA. According reports, a 90ft tug boat hit a stationary construction barge near the construction site for the newTappan Zee Bridge in upstate New York in the early hours of Saturday morning.
One person was pulled out from the crash and pronounced dead on shore soon after, but the Coast Guard is still on the look out for the other two people who were on board at the time of the crash.
Kieran O'Leary, a spokesperson for the Department of Public Safety in Westchester County, said: "The vessel took on water and sank. There were three people on the tug and all three were thrown into the water. Two are missing, one was recovered and is deceased. Multiple agencies are involved."
A local New York TV station, WABC-TV, has reported that a second person had been rescued from the water and has survived, though this has not yet been independently confirmed. None of those involved has been identified.
The tug, named The Specialist, and which was travelling from Albany in New York to Jersey City, has sunk 40ft to the bottom of the river, while conditions are reported to be difficult for divers.
Officials have admitted that 5,000 gallons of fuel which were on board the tug have spilled into the river following the crash. A spill team is en route.
In a statement, Rockland County Executive Ed Day said: "This morning's deadly tugboat accident near the new Tappan Zee Bridge only highlights the dangerous work of those involved in such a massive construction project. Our thoughts and prayers are with the victims, their families and the brave first responders involved in the difficult rescue and recovery."
"As work on the new span continues, we must be assured that an incident like this never happens again," he added.