Three Base-jumping enthusiasts who were arrested for parachuting off One World Trade Center in Lower Manhattan have released the YouTube video of their death-defying stunt.
Andrew Rossig, James Brady and Marko Markovich turned themselves in and said their stunt had exposed the need for tighter security at New York's tallest building.
The three men climbed to the top of the 1,776ft tower in the early hours and leapt off the top, according to their defence lawyers. They landed on West Street where they met Kyle Hartwell, their alleged cohort on the ground, before a security guard at the Goldman Sachs building spotted them packing up their equipment. The incident occurrred in September.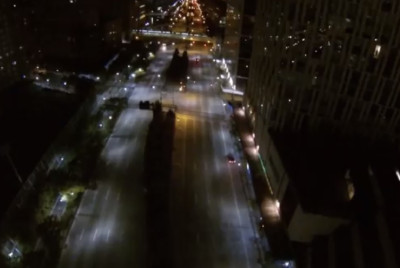 Rossig, 33, said: "We just walked in. It's supposed to be the most secure building in the world. God forbid it was somebody else getting in there with a real intention to harm New Yorkers."
It took police four months to identify the Base-jumpers before leads in January exposed videos filmed on helmet cameras.
Timothy Parlatore, Rossig's lawyer, said the men climbed the stairs of the 104-floor building without encountering any security guards.
The tower, originally dubbed the Freedom Tower during its basework, is still under contruction and is situated next to Ground Zero.
Parlatore told DNAinfo New York: "Nobody was harmed except for the Port Authority whose lack of security was exposed. The proper resolution is not to punish these young men but to close security to prevent it from happening again."
According to the New York Times, lawyers for the divers have been negotiating with prosecutors and expect the men to be charged with trespassing and burglary.
According to their lawyers, Rossig and Brady are experienced, amateur skydivers who sought thrills from jumping off buildings, bridges and other structures.
Rossig described his descent from the top as "exhilarating."
He said: "It's a fair amount of freefall time. You really get to enjoy the view of the city and see it from a different perspective."
Security concerns around the tower have been growing. Justin Casquejo, 16, recently slipped through railings on to the site in the middle of the night. He climbed a scaffold and took a lift to the 88th floor, where he sneaked past a security guard to enter the roof space and climb the metal spire. He was arrested in the building's reception area shortly afterwards.