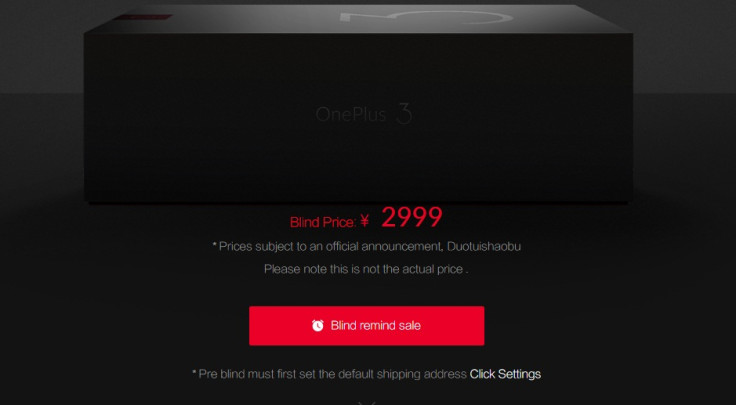 Chinese smartphone manufacturer OnePlus is building up anticipation for its upcoming flagship, the OnePlus 3, as each day passes. The company has now declared that a few lucky fans who sign in for a special offer will get hold of the device even before its official launch as long as they agree to pay CN¥ 2,999 ($455) in advance.
The early bird sale comprising of 1,000 units will be held on 6 June, which is a week earlier than the official global and Chinese launch scheduled for 14 and 15 June respectively. The scheme seems to emulate LG and Samsung's pre-order schemes for their flagships.
In case you feel you do not want the phone you will have seven days to cancel the order until 14 June 6pm Beijing time. All of this, however, does not mean you will have the phone in your hands before the launch as the OnePlus 3 will be shipped on the same day as the announcement in China i.e June 15. However, this lot will definitely be one of the first to get hold of the phone. As reported earlier, global consumers who have grabbed a pair of the VR Loop headset from the company will get first preference to order the device.
Recent reports indicated that the OnePlus 3 may come in as many as four variants. If that is true, it is not clear which model is up for grabs in this pre-order. According to the report, the four variants will be priced within a range of CN¥2,299 to CN¥2,806 depending on the storage and RAM capacities.
As for the other specifications of the phone, all variants are expected to have a 5.5in full HD AMOLED display running on a Snapdragon's 820 chip-set with a rear camera of 16 megapixel and a front camera of 8 megapixel capacity. All variants are also expected to run on Oxygen OS 3.0 based Android Marshmallow. Some rumours, however, claim the phone may even run on Google's preview build for Android N.