Thailand's celebrity elephant shocked onlookers when the animal crushed its handler to death on Monday, 27 November. The incident happened at the Chiang Mai Zoo, where Phlai Ekasit, the 32-year-old tusker, was being temporarily housed.
According to witnesses, Somsak Riangngern, 54, fed Ekasit in the morning and then unchained the animal so that it could drink water and bathe.
The five-tonne animal took a few steps forward before backtracking and attacking Somsak with his trunk and tusks.
"The elephant suddenly turned back and used his trunk to grab the victim. Then the elephant used his trunk to crush him," Wuthichai Muangman, acting director of Chiang Mai Zoo, told AFP.
Phlai Ekasit was made famous for his appearance in the Thai/English Tony Jaa-starring martial arts film, Ong Bak 2.
The animal worked in four other movies and numerous commercials. Ekasit was being housed at the Chiang Mai Zoo as part of a contract deal which ends on 30 April. Under the deal, the pachyderm performs in elephant shows but now it has been excluded from the performances till the current matter is resolved.
"This accident was an unpreventable tragedy since Somsak was an experienced mahout who has always loved Phlai Ekasit," Muangman added. "We are deeply sorry to his family."
Somsak had been working with the elephant for around a decade and according to the other mahouts, had no problems with his charge. They suspect the animal turned aggressive because he was in heat.
The brutal incident has triggered fresh debate over Thailand's animal tourism industry which despite criticism, has been flourishing. According to a report by World Animal Protection published in July, the kingdom has twice as many elephants in tourism as compared to the rest of Asia combined.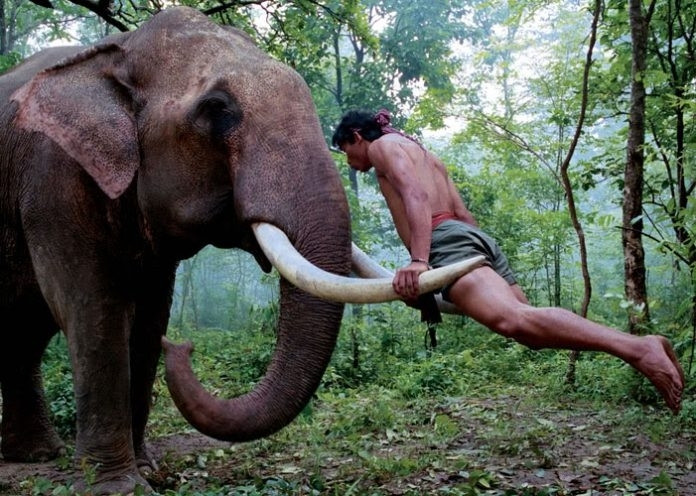 "Is it any wonder that some of these gentle animals eventually become fed up and fight back after being chained while confined to small enclosures that are a fraction of the size of their natural habitats?" People for the Ethical Treatment of Animals (Peta) said in a statement.
"There simply isn't an acceptable way to tame these mighty creatures and put them on display for tourists," Save The Asian Elephants (STAE) CEO Duncan McNair said in an earlier statement. "They are controlled, managed and made tourist-ready through abject cruelty and mental torture to break their spirits.
"It's a vicious circle that can't be stopped unless we all say, 'The show is over" he added.