Almost 900,000 UK citizens living in the EU could be affected by the forthcoming Brexit negotiations according to new figures – the most comprehensive yet compiled.
Nearly 200,000 UK over-65s are living in other member states, prompting questions about whether the NHS could cope if their rights to live abroad are rescinded and they are forced to return home.
The data released today (27 January) by the Office for National Statistics (ONS) provides the first detailed picture of the number of UK citizens living in other EU countries who are not dual-nationals.
As such, they are the first to record just those people whose residency rights remain vulnerable while the EU and UK negotiate a new relationship.
The ONS found that:
890,299 sole-UK citizens are living in other EU nations
189,105 of them are over-65
More sole-UK citizens live in Spain (308,805) than any other member state
More than a third of those residing in Spain (101,045) are over-65
France (157,062) and Ireland (112,090) were the second and third most popular destinations for sole-UK expats with 30,141 and 14,290 over-65s respectively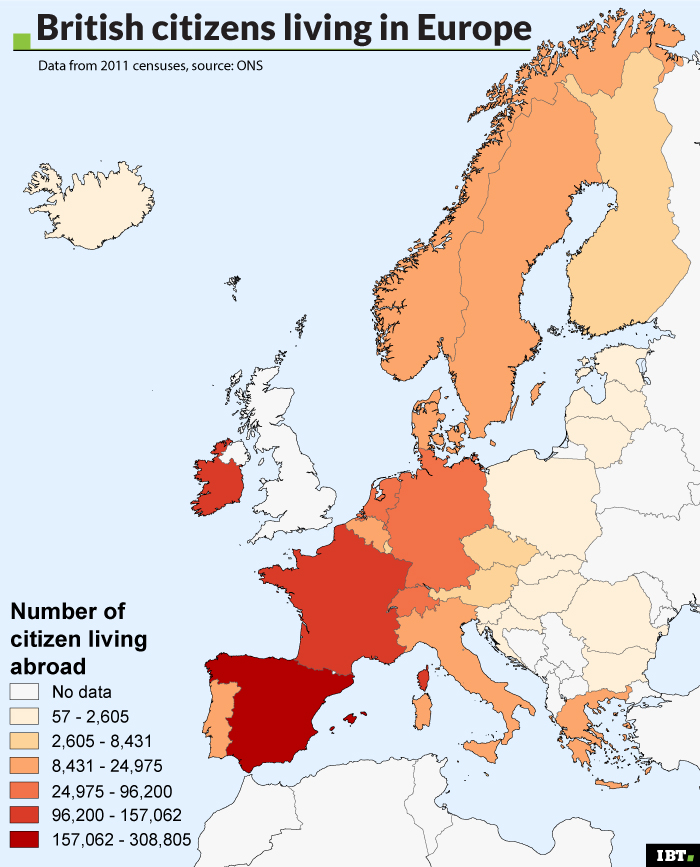 Top 10 of country by number of British Citizens
At present the NHS foots the bill for UK pensioners who receive healthcare in Spain. However, health costs are cheaper in Spain than the UK. It is also likely that the healthcare needs of the elderly residing in Spain will increase if they are forced to return to a colder climate.
"We have got to get away from this perception that they are all there having a good time. Many moved to Spain in the first place because it was cheaper to live there, because it was cheaper to buy a property," Sue Wilson, from campaign group Bremain in Spain told The House of Commons Brexit select committee earlier this month.
"Many of those people, if they were forced to return, not only would they be worse off financially and be a drain on the NHS and perhaps the housing market, they are also going to suffer with their health, so it's not just a financial impact, it's an impact perhaps with their life expectancy," she said.
The NHS is already running beyond full capacity and is currently in the midst of its worst ever winter crisis.
Figures released by the Nursing & Midwifery Council suggest that the British people's decision to leave the EU is already having an effect on NHS staffing: only 101 EU nurses registered to work with the NHS in December 2016, plummeting from 1,304 in July of the same year. There are already an estimated 24,000 nursing vacancies across the UK.
Green Party co-leader Jonathan Bartley, said: "It would be incredibly foolish for the Government to countenance any agreement that resulted in more patients but less staff. Free movement benefits us all and without it we will find ourselves poorer in every sense."
Theresa May will be well aware of the chaos that could ensue if Britain and the EU are unable to guarantee the residency rights of expatriated citizens. Setting out her vision for Brexit on 17 January, she said: "We want to guarantee the rights of EU citizens who are already living in Britain, and the rights of British nationals in other member states, as early as we can... Because it is the right and fair thing to do."
Last year Minister for International Trade Liam Fox was criticised for describing EU nationals living in the UK as "one of our main cards" in the negotiation process.
The latest ONS figures date back to 2011 because this was the last time that comparable census data from all EU countries were available. However, an ONS spokesman said: "We don't think there would be a great deal of change over that five-year period so the data are robust in our view."
It has been widely reported that there are 1.2 million UK citizens living in the EU but this is a misconception. The estimate, made by the United Nations, refers to the number of people born in the UK that currently reside in the EU, which includes those with dual-citizenship and also non-UK citizens born within the kingdom.
The 1.2 million estimate is not pertinent to the question of how many people could potentially lose their residency rights in the wake of UK-EU divorce proceedings.
The ONS was unable to provide an equivalent figure of sole-EU citizens residing in the UK. Some 3,159,000 EU citizens (some of whom will hold UK citizenship) were living in the UK in 2015.
Alp Mehmet, vice chairman of Migration Watch UK: said "The PM has, quite rightly, said the rights of British citizens living in other EU countries, as well as those of EU nationals here, are a priority and has sought early agreement with her EU counterparts on the matter.
"We, and no doubt both sets of expatriates, not least the 900,000 British citizens it affects, are also keen for the issue to be resolved as speedily as possible."