The Office for National Statistics has released figures revealing that over the past 40 years there has been a rise in the number of women in work and a fall in the percentage of men.
The official figures show that in April to June 2013 around 67% of women aged 16 to 64 were in work, a staggering increase from 53% in 1971. But the percentage for men was 76% in 2013, a massive fall from 92% in 1971.
The report argued that the biggest shift happened between 1971 and 1991.
"One possible factor is the rise of the service sector and decline of the manufacturing sector beginning in the 1960s," the ONS explained.
"Traditionally a higher proportion of women than men have worked in services, with a higher proportion of men working in manufacturing."
The ONS found that the growing demand to employ people within the service sector and falling demand within the manufacturing sector may have resulted in more women and fewer men working.
The 1970 Equal Pay Act, for instance, prohibited any less favourable treatment between men and women in terms of pay.
Likewise, the 1975 Employment Protection Act made it illegal to sack a woman due to pregnancy and introduced statutory maternity provision [Fig 1].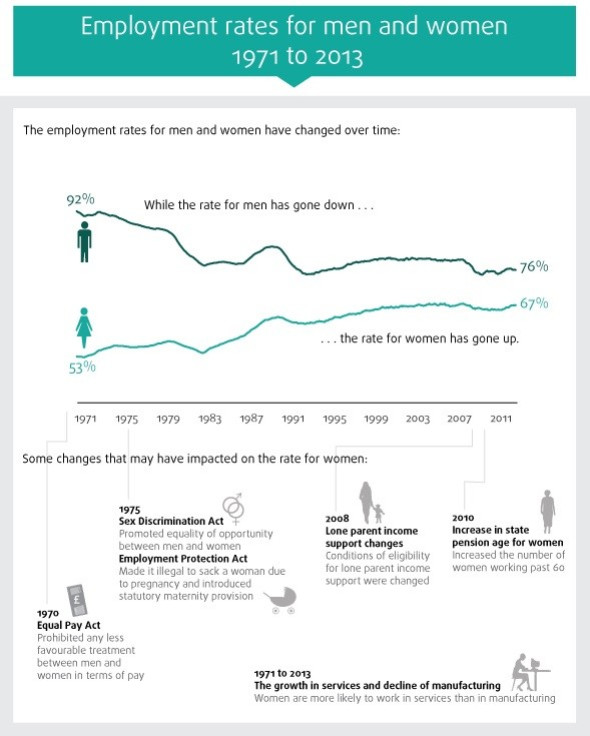 Fall in men
The report explained that the fall in men working could be for many reasons.
In between 1971 and 1991, for example, when most of the fall in men in work occurred, many could have taken earlier retirement, left work for health reasons or started sharing childcare responsibilities.
But the research did find that men have consistently higher employment rates than women above the age of 22 [Fig 2].