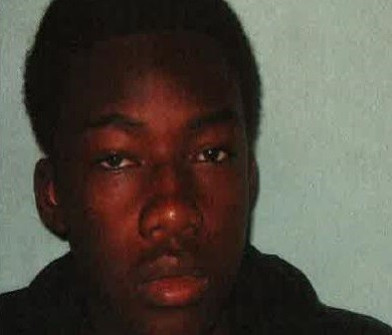 An 18-year-old man has been found guilty of raping a 11-year-old girl in a park in North London.
Opemipo Jaji, 18, from Edmonton, had denied that he followed the girl off a bus in Enfield before dragging her into Jubilee Park in November.
The court heard how the 11-year-old was repeatedly raped by Jaji for three hours, while threatening to stab her if she tried to escape.
Traces of the girl's blood were found on the 18-year-old's shoes and bag. Jaji also shoved a glove in the mouth of the 11-year-old during the "vicious and horrific attack".
He is due to be sentenced at a later date.
Following the attack, the child was taken to hospital and underwent an operation for an injury.
She told police: "He kept saying, 'Stop moving or I will stab you'. I tried to run away but then he grabbed me when I got to the pavement of the park entrance.
"I kept on saying 'stop' because it was hurting me and he kept saying 'shut up' to me. He was just saying it every time I spoke.
"When I was on the floor, he said he would film me and send it into my school.
"I was saying 'Get off me, get off me, stop'."
During the trial at the Old Bailey, the jury was told that Jaji had pleaded guilty to previously sexually assaulting a 12-year-old girl. During this incident he followed the girl off a bus into a housing estate, where he stuffed her school tie into her mouth and repeatedly sexually assaulted her.
He was given a 10-month detention but was not forced to register as a sex offender.
In May 2012, Jaji also pleaded guilty to an offence of making an indecent photograph of a child, and was given a community sentence.
'Prolonged and terrifying ordeal'
Det Ch Insp Adam Lowe, said: "Jaji posed a great danger to young girls and, despite the great weight of evidence against him, refused to accept his guilt and forced the victim to give evidence in court.
"This was a particularly brutal but unusual attack on an innocent 11-year-old schoolgirl who will, no doubt, continue to suffer the emotional scars of what happened to her for a very long time."
Sarah Maclaren, CPS London Head of Rape and Serious Sexual Offences, said: "This was a vicious and horrific attack on a young victim which lasted almost three hours.
"The victim was on her way home from school with her friend on the bus and a few minutes later Jaji got on the same bus.
"He then followed the victim off the bus and dragged her into the park where she was subjected to a prolonged and terrifying ordeal. The victim tried to get away several times and was pulled back by Jaji who threatened to stab her.
"As a result of this conviction a dangerous sexual offender has now been brought to justice.
"I would like to thank the 11-year-old victim and her family for their enormous strength and courage in supporting this prosecution."