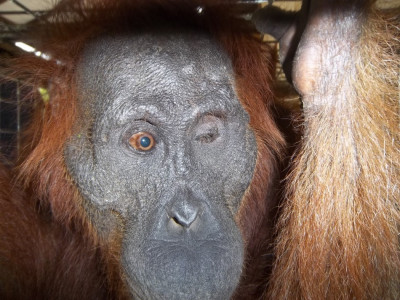 An orangutan has made a remarkable recovery after being shot 104 times with an air rifle on an oil plantation in Borneo.
The orangutan, who has been named Aan, had to have an operation during which 32 pellets were removed from her body.
She was rescued from the plantation, where she had been roaming for a month, by the Orangutan Foundation and the Indonesian Agency for Conservation of Natural Resources.
When she was taken into care, she had already gone blind in her left eye and was losing sight in her right, with X-rays showing pellets lodged around both eyes. She is now completely blind.
Dr Zulfigri, from the Orangutan Foundation, removed the pellets that were lodged in her body during a three-hour surgery. It is unlikely Aan will ever be released back into the wild.
Mr Hartono, the head of the local Conservation Agency in Pangkalan Bun, said: "I hope that Aan will now feel more comfortable being in the forest living in a large holding cage. We will work together with the Orangutan Foundation to find the best way so that Aan can continue to live."
Aan's story shows some of the issues facing orangutans in the wild. They are an endangered species and although they are protected by law, much of their natural habitat has been severely degraded through logging and oil-palm plantations.
Orangutans are also viewed as pests by local farmers because they encroach on plantations and village crops. These issues can be clearly seen, as there has been a rise in the number of orangutans being rescued by the Orangutan Foundation.
Ashley Leiman OBE, director of the Foundation said: "We have worked in Borneo over 20 years and have never had to rescue three orangutans in four days.
"The reasons for the increase could be due to the rapid loss of orangutan habitat or it could be because more people are reporting orangutans to the wildlife department whereas before they would have killed them."
The Orangutan Awareness Week will run between 12 and 18 November.