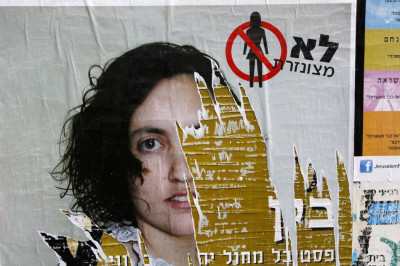 Women have been slowly disappearing from the public eye in Jerusalem, where a powerful minority of ultra-orthodox Jews have been enforcing gender segregation and censorship of female images across the city.
Activists have previously defied gender segregation on buses and in other public places to draw attention to what they consider a deep-rooted misogyny in Israeli society.
Now a new campaign on Facebook called Uncensored has been distributing hundreds of posters of women across Jerusalem. Coordinated by Rabbi Uri Ayalon, the initiative said it consciously "objects to the sexist use of women in ads" by drawing attention to the issue of gender segregation.
"It is important to me that my two daughters grow up in a place where they are not occluded because they are women," Ayalon said.
But the ultra-orthodox Haredim have hit back and many of the posters have been defaced or removed.
Gender division has increasingly become a hot topic in Jerusalem, where pressure from the orthodox community has resulted in segregation on certain buses, streets, supermarkets, religious buildings and advertising campaigns.
"It takes a while to notice that something is missing from Jerusalem public space," Aylon said, "but once you do, you can't believe you didn't realise it sooner."