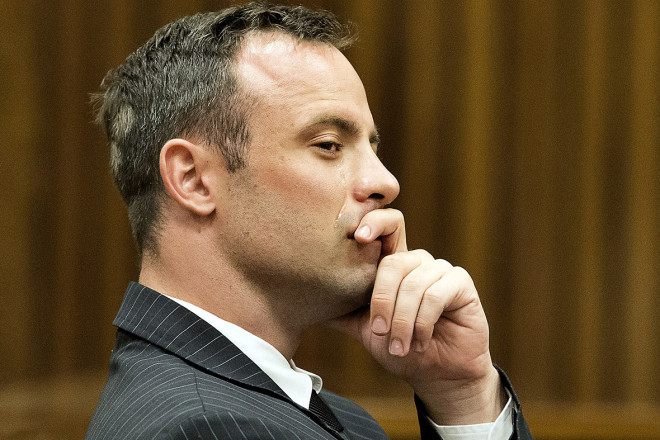 As Olympics and Paralympics runner Oscar Pistorius gives evidence about the moment he found dying girlfriend Reeva Steenkamp, after he had shot her three times, IBTimes UK looks at key moments of the trial, which started last March.
Monday 3 March 2014
Speaking ahead of proceedings, Reeva Steenkamp's mother, June Steenkamp, recounts an incident in 2013 when her daughter phoned her in fear while with Pistorius. She recalled: "She [Reeva] was so afraid. She said, 'mummy, I'm in the car with Oscar and he's driving like a lunatic. Like a lunatic.'
Pistorius claims he was the victim of "character assassination" in the opening statement of his trial.
The athlete states "there was no argument" between him and Steenkamp on Valentine's Day last year - the night he shot her in the toilet of his home in Pretoria.
A neighbour of Pistorius tells the jury that she heard "blood-curdling" and "fear-stricken" screams on the night Steenkamp was shot dead.
Tuesday 4 March 2014
The first witness to testify was Dr Michelle Burger, Pistorius's neighbour near the Silver Woods Estate, who said she heard "a woman's terrible screams" at about 3am on February 14, 2013.
She breaks down in tears overcome by the memory of what happened and by recounting it at North Gauteng High Court in Pretoria just yards away from the family of Reeva Steenkamp.
Pistorius also breaks down in court as he listens to details of the injuries Reeva Steenkamp suffered when he shot her three times.
Defence lawyer Barry Roux tells the court how a bullet to her head would have left Steenkamp with "no cognitive function, no thought process".
Wednesday 5 March 2014
Witness Charl Johnson tells the judge he has been victim of threatening phone calls after giving evidence in court.
Johnson, a neighbour of the Bladerunner, complains that his privacy has been breached after his phone number was read out during proceedings.
Professional boxer Kevin Lerena tells the judge how Pistorius shot him in the foot when a gun went off by accident in a restaurant.
One of the first witnesses at the scene testifies that Pistorius was found sobbing and praying over Reeva Steenkamp's body,
Friday 7 March
A security guard recalls how he saw Oscar Pistorius carrying the body of Reeva Steenkamp downstairs after shooting her at his home.
Monday 10 March
Pistorius vomits in court during graphic evidence from the pathologist who examined Reeva Steenkamp's corpse.
Professor Gert Saayman says Steenkamp was killed by 'Ranger' bullets which tear into human tissue in a way designed to inflict maximum damage.
Witness Darren Fresco's evidence is questioned when he admits following the Pistorius trial on Twitter. According to Barry Roux, Pistorius' defence lawyer, Fresco's evidence could have been "tailored" by what he had read about the trial on social media.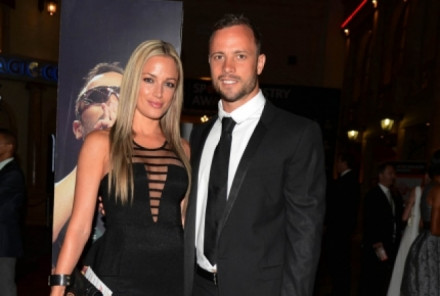 Wednesday 12 March
The toilet door through which Oscar Pistorius unleashed a hail of bullets which killed Reeva Steenkamp is presented at his murder trial.
Thursday 13 march
Photographs of Pistorius taken only minutes after he killed Steenkamp are shown in court.
Monday 17 March
Ammunition expert says Pistorius was not wearing his prosthetic limbs when he shot girlfriend Steenkamp.
Thursday 24 March
Pistorius's lawyer tries to discredit the testimony of witness Anette Stipp who claims she is "absolutely convinced" she heard an argument between the couple on Valentine's Day last year.
Pistorius's text messages are read in court and they reveal Steenkamp was "scared" of him.
Monday 31 March
Graphic photos of Pistorius's blood-soaked bathroom are released.
Monday 7 April
Pistorius breaks down in tears as he waits to speak for the first time at his trial.
The athlete reveals he pulled out a gun on three men during a fight in the street.
Tuesday 8 April
Pistorius says text messages from Steenkamp expressing worries about their relationship were due to him being "jealous".
Wednesday 9 April
Pistorius described the moment Steenkamp died in his arms in a pool of blood after he gunned her down.
Giving evidence for the third successive day, the Bladerunner says he heard Steenkamp breathing as he held her after discovering he had fatally shot her.
Prosecutor Gerrie Nel accuses the athlete of lying.
Monday 14 April
Pistorius hugged a blonde female wellwisher as he arrived at court for the first day of the second week giving evidence his murder trial.
He was accused of crying to escape facing justice by prosecutor Gerrie Nel in court. Nel asked: "You're not using your emotional state as an escape, are you Mr Pistorius?" during a torrid day in court for the runner.
Tuesday 15 April

Oscar Pistorius said he was left "heartbroken" at discovering he had accidentally shot dead his girlfriend Reeva Steenkamp. Prosecutor Gerrie Nel again accused Pistorius of failing to accept responsibility for his actions, asking: "Who should we blame for the fact you shot her?"
Strain shows on Oscar Pistorius of days spent giving evidence and facing dogged and forensic questioning from Nel.
Pistorius broke down in tears as he read out a tender Valentine's Day card from Reeva Steenkamp in which she wrote "I love you" – just hours before he shot her dead.
Reading out the heartfelt message in a quavering voice, Pistorius said: "Roses are red, violets are blue, I think today is a good day to tell you that I love you."