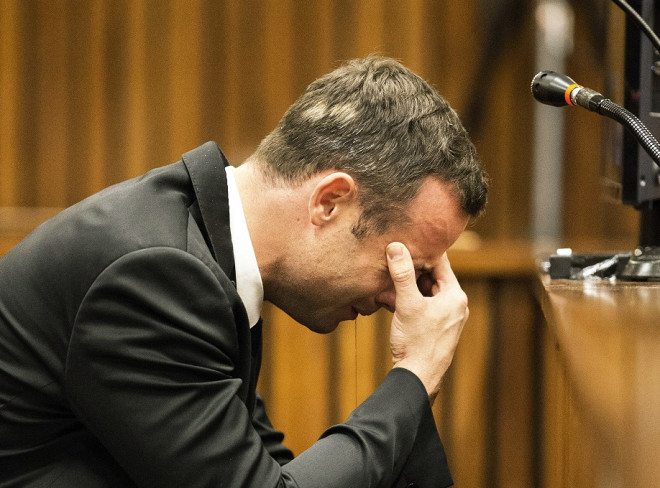 Oscar Pistorius was discovered in tears and praying over Reeva Steenkamp's body, one of the first witnesses at the scene has testified.
Pistorius's neighbour Dr Johan Stipp told the court he had found the 27-year-old "extremely upset" after shooting his girlfriend three times on Valentine's Day last year.
Stipp told North Gauteng High Court that Pistorius had vowed to "dedicate his life to God" if He "let Reeva live" in the aftermath of the shooting.
"Oscar was crying all the time,'' said Stipp. "He was praying to God [saying] 'Please let her live'."
Pistorius was visibly moved while listening to Stipp's testimony in court on day four of the trial. The doctor said the disabled athlete claimed at the scene he thought Steenkamp had been an intruder.
"The first thing he said was 'I shot her, I thought she was a burglar and I shot her," he said.
Pistorius was so emotional that Stipp was worried the paralympian would shoot himself.
"Oscar was extremely upset," said Stipp. "He went back into the house, and I asked Mr Stander [the security guard] where the gun was. I was scared he was going to harm himself."
Stipp said he went to Pistorius's luxury home in a gated community after being woken up by "thee loud bangs" and the sound of a woman screaming. Once there, he announced he was a doctor and was one of the first people to see Steenkamp.
He told the trial: "She had no pulse in her neck. She had no peripheral pulse. There weren't any signs of life that I had seen. It was obvious to me that she was mortally wounded.
"I was awoken by three loud bangs. My wife said 'what was that?' And I said 'I think it's gunshots.' I went out on to the balcony and heard screams, and it sounded to me like a woman. And I thought, 'there's trouble here'. And I called security."
Pistorius denies premeditated murder.
The trial continues.