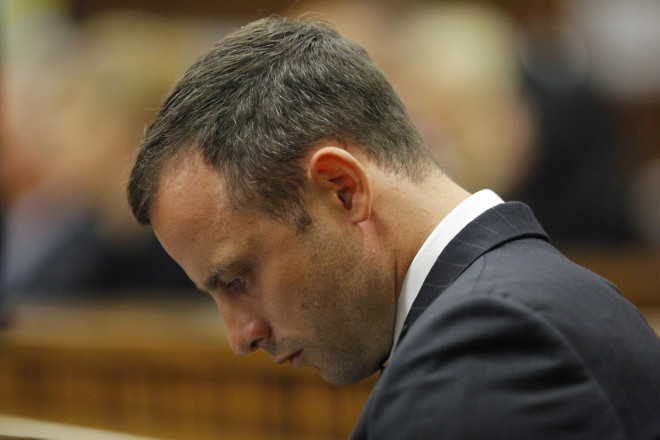 Oscar Pistorius broke down in court as he listened to details of the injuries Reeva Steenkamp suffered when he shot her three times.
Defence lawyer Barry Roux told the court how a bullet to her head would have left Steenkamp with "no cognitive function, no thought process".
The disabled runner, 27, pulled out a tissue and put his hand in his hands as a ballistics expert described the gunshot wounds inflicted on Steenkamp by the Bladerunner on Valentine's Day, last year.
North Geutang High Court was told Steenkamp had been blasted in her right thigh, then hit in her shoulder and finally shot in the head as Pistorius unleashed a hail of bullets through the bathroom door. One of the four bullets fired had missed Steenkamp and hit a wall.
The forensic account of what happened to Steenkamp when Pistorius began firing triggered the runner's first emotional breakdown since his murder trial got under way this week.
Roux pursued the line of questioning in order to show that Steenkamp would have been incapable of screaming out in the way witnesses claimed in court they had heard.
The experienced senior prosecutor has a reputation as a "tough talker" which was on display again. It was a case of Roux bringing his own client to tears in order to make his case.
Challenging witness Michelle Burger – a university lecturer and neighbour of Pistorius who told of hearing "bloodcurdling screams," Roux said: "That person, who had sustained that amount of brain damage would have no response ... and yet you claim to have heard her screaming?"
Another witness Estelle van der Merwe told the court she heard "people arguing" and then four "bang bang" sounds. She claimed she heard a row lasting for around an hour before that.
Pistorius broke down in tears in the dock only yards from where Reeva's mother, June Steenkamp, was sitting. She also heard the graphic evidence about her daughter's death.
Pistorius denies premeditated murder. The trial continues.