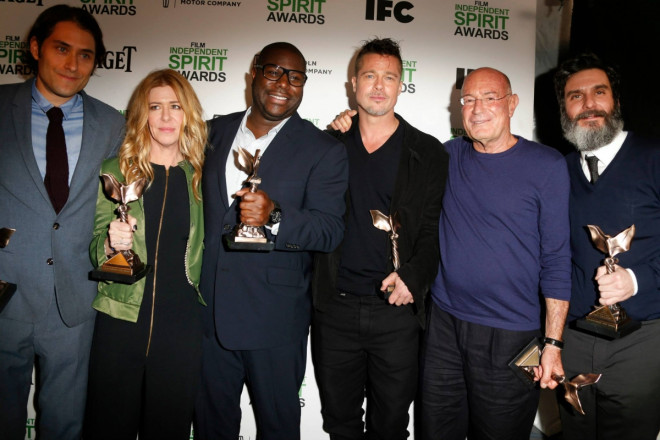 With Oscars 2014 just a few hours away, 12 Years a Slave, a frontrunner for this year's Academy Awards strengthened its chances by winning big at the Independent Spirit Awards on Saturday.
Out of seven nominations, the hard-hitting slavery drama won five, including the best feature honor, at the awards show for independent movies made on small budgets, reports Yahoo.
Steve McQueen, director and co-producer of 12 Years a Slave dedicated the best picture Spirit Award to lead actor Chiwetel Ejiofor and supporting star Michael Fassbender.
"Michael Fassbender is a genius, he's brave, he's feminine, he's masculine ... that's what Michael Fassbender is. Chiwetel was the soul and heart of this movie, and gave the most nuanced performance you've ever seen," McQueen said.
McQueen also bagged the best director award for the film and is a strong contender for the Oscars.
One of the highlights of the award show was upcoming star Lupita Nyong'o (who made her acting debut with 12 Years a Slave) being carried to the stage by McQueen after her name was announced as best supporting actress.
An Oscar favourite for best actress, Cate Blanchett, won the Spirit Award for best female lead for her role in Blue Jasmine.
"This film proves that audiences are interested in stories led by women, and that they can in fact make money," the Australian actress said.
This year's award season favourite Matthew McConaughey added another trophy to his growing collection after he was named best lead male actor for his role as AIDS sufferer Ron Woodroof in Dallas Buyers Club.
McConaughey's co-star in the film Jared Leto, another Oscar favourite, won best supporting actor for playing a transgender HIV-positive woman and had one of the afternoon's hilarious thank-you speeches:
"In case this is the last time I get to thank anyone, I wrote down a couple of names because it's important to me," the actor said, before reading off a long list that included his nominees, co-stars, family, artists, musicians, actors, "all the women I've been with and all the women that think they've been with me" and "my future ex-wife Lupita."
In the past, notable Spirit Awards winners have gone on to win the Oscar the following day. The names include Natalie Portman for Black Swan (2011) and Jennifer Lawrence for Silver Linings Playbook last year.