Apple has released the first update to OS X Mountain Lion via the Software Update program installed in all Macs.
The update, which was released to developers earlier in August, comes with fixes to improve the stability and compatibility of Macs. In particular, the update appears designed to respond to those MacBook Pro and Air users who experienced battery performance issues after installing Mountain Lion (though Apple makes no mention of this in the release notes). The people at Ars Technica have conducted tests that reveal the update can significantly improve the runtime of Apple laptops. However, the site claims that battery life might still not be as good as it was under OS X 10.7.4.
Initially the tests performed by Ars Technica showed a noticeable decrease in battery life on the Retina MacBook Pro. After installing Mountain Lion, the device's battery life dropped 38 percent from its previous eight-hour runtime.
Ars Technica's reporter said: "My MacBook Air typically reports between 4.5 and 5 hours on a full charge, while after installing Mountain Lion it would only show about 3.5 hours. After installing the update, it began reporting 4.5 hours consistently. Still, my MacBook Air has seen over two years of constant charge and discharge cycles, and its battery isn't in new condition.
"However, my Retina MacBook Pro had just recently been used to run comparison battery tests under 10.7.4 and 10.8.0. I immediately installed the 10.8.1 update, set up all my usual apps, and disconnected the MagSafe 2 power adapter. The computer ran constantly for 7 hours and 5 minutes before automatically shutting down."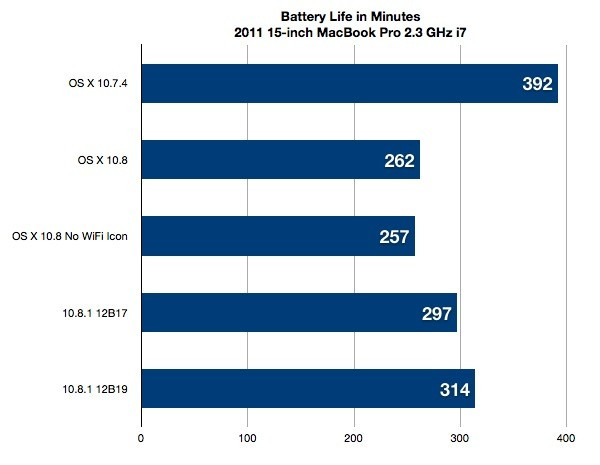 Similarly, The Mac Observer performed tests that revealed improved battery life over 10.8.0, although not as good as 10.7.4. Apart from battery life, the update reportedly fixes issues in Thunderbolt, iMessages, Exchange Server and SMB servers.