A group of football fans at a Sudanese match have sparked outrage after they celebrated the Holocaust by hoisting a massive Adolf Hitler banner.
On 25 November, a large banner of the Nazi leader's face flanked by the word "holocaust" was raised by Blue Lions Ultras' supporters of Al Hilal Club in the final match of the Sudanese league.
The group also spelled out the word "Holocaust" with separate smaller banners in the stands of Al-Hilal Stadium during the match on Saturday, before lighting flares in an attempt to make the message visible in the dark, RT News reported.
Some six million Jews, around two-thirds of the Jewish population of Europe, were massacred during World War II under Hitler in Nazi Germany and the genocide came to be known as the Holocaust.
Local media reported that police did not interfere in the sick action as they did not want to cause more disorder among the rowdy group. However, Al-Hilal players reached out to the fans and asked them to take down the banners and extinguish the flames.
The vice-president of Sudanese league champions Al Hilal, Saad al-Omda, told Al Arabiya English that the display of the banner did not represent the team and they were not responsible for it.
"The incident was caused by the individual actions of a group of people who do not represent the club. The game was in Al Hilal Stadium, but securing the stadium and supervising it was the responsibility of the football association according to the system followed," al-Omda added.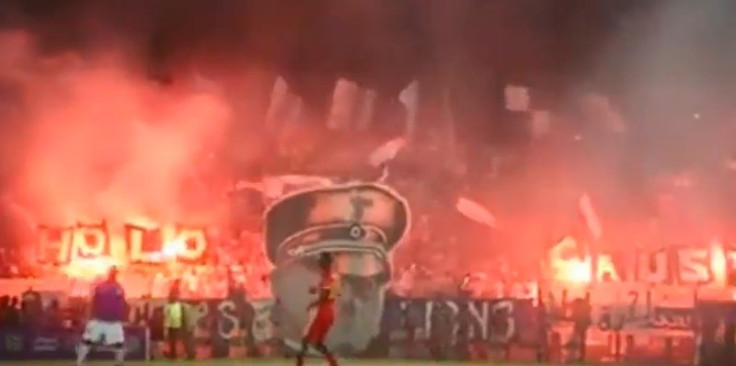 Campaign group Fare Network, which works to curb discrimination within the game, tweeted that they were investigating the matter. "Fare is investigating a shocking incident at a league match in #Sudan over the weekend. Supporters of Al Hilal Omdurman displayed a banner with a portrait of Hitler and the words holocaust," the post read.
Meanwhile, the Blue Lions Ultras supporters have not shown any remorse for their action and said that the intention was "to send a sarcastic message to the rival club".
In a statement on Wednesday (29 November) on their Facebook page, they claimed responsibility for the banner incident and said they were ready to face the consequences.