Men have been given the exclusive use of a 50 metre competition pool on Friday evenings at the Inspire Sports Village in Stopsley, Luton as part of its gender-segregated sessions. Women will still be able to swim but they will be confined to a smaller 20 metre community pool.
That is not all. The management has also introduced a dress code requiring swimmers to cover up from "navel to knee", citing cultural reasons. This means swimming trunks are not allowed. In its Facebook page, the pool said: "Alhamdulliah swimming is back! We have the large 50 metre pool on a permanent basis. Please share with friends and family."
The pool is open to men only every Friday from 8.30 to 9.30 pm starting from 29 July.
The decision has riled a few people. Bernhard Henry Fynn wrote on the pool's Facebook page: "Let's have a mass rally against this," while another, Sharon Moor described the move as gender discrimination.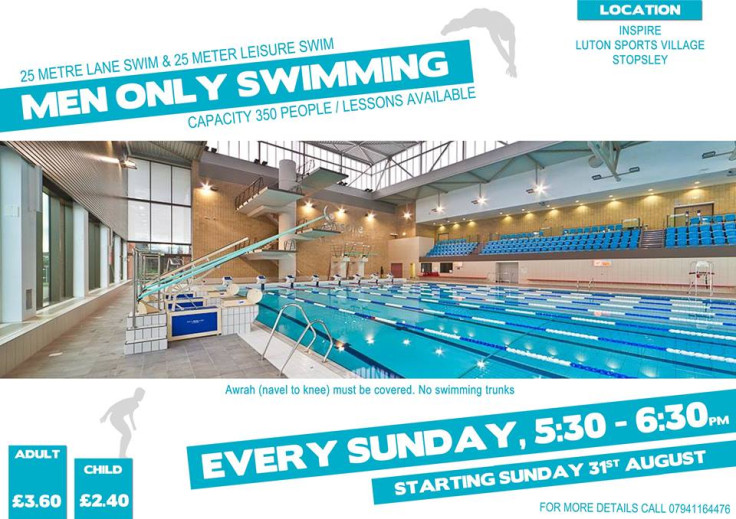 The move to have men only swimming slots was cancelled in May 2015 after the management was unable to attract enough people to participate.
The Telegraph said that a female swimmer was upset over the decision. "Why has one section of the community in Luton been allowed to dominate and take over the best pool in the borough? I like swimming in the competition pool after a hard week at work on Fridays and now I can't, without any discussion and very little advanced notice."
The newspaper noted that the 2011 census shows that a quarter of the population in Luton are Muslims.
An Active Luton spokesman however has strongly defended the move to offer segregated swimming to its customers, saying: "Active Luton aims to provide everyone in our community, regardless of age, ability, or ethnicity, with affordable and accessible opportunities to get active in ways which suit their wide-ranging needs and lifestyles."